GREAT COMMISSION CAMP 2 – 6 January 2015, Cape Town
Experience the Joy of Leading Others to Christ
Does the thought of sharing the Gospel, especially with sceptics, terrify you? Then this camp is for you! Sharing your Faith doesn't need to be a terrifying experience – it can be God-glorifying and fun!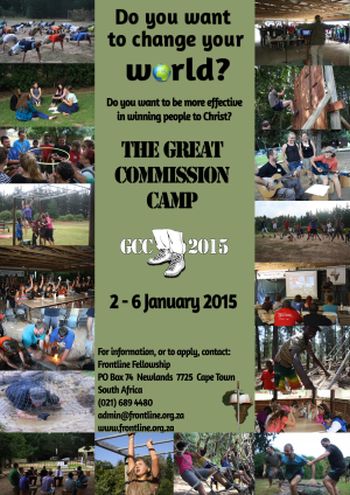 We teach simple, but effective, Evangelism methods, developed by Evangelism Explosion and Way of the Master that use the 10 Com-
mandments to bring conviction of sin and to show people their need for Repentance and Faith in Christ. The camp will also cover numerous effective field-tested Answers for Sceptics.
In the Frontline of Missions
Frontline Fellowship has pioneered missionary work in war-torn Mozambique and Angola in the 1980's and in Islamic Sudan since 1995. Frontline Fellowship smuggled over 350 000 Bibles and Christian books in 24 languages into Sudan, and has trained many thousands of pastors, teachers, chaplains and medics in restricted access areas.
Intensive
The Great Commission Course starts on Friday 2 January 2015 with the Great Commission Camp (2 – 6 January 2015). It will then be followed up by an intensive three-week training course with daily outreaches and practicals, hands-on ministry in townships, prisons, taxi ranks and railway stations, etc. Those who are serious about Missions, are invited to apply for the full three-week course.
Inspiring
At the GCC, you will receive first-hand report backs with photo-rich Power Point presentations, and films from Nigeria, Sudan, Uganda, Zimbabwe, Zambia, Angola, Congo, Rwanda and Mozambique. In addition, there will be great Bible teaching, challenging discussion groups, practical workshops, hikes, problem solving, and team building practicals.
Is the Great Commission your supreme ambition?
For more information contact: Frontline Fellowship, admin@frontline.org.za or 021- 689-4480, or visit www.frontline.org.za.
Venue: Back 2 Basics, just outside Grabouw, one hour's drive from Cape Town.
Cost: R1 350 per person (includes food, accommodation, manual, power-packed data disc and adventure activities).
Watch the Great Commission Camp video (30 seconds) on Facebook or Vimeo.
View a Way of the Master promotional video here.
Join the Event on the Frontline Fellowship Facebook page.
Way of the Master Evangelism training materials, resources and tracts are available from www.livingwatersafrica.co.za.