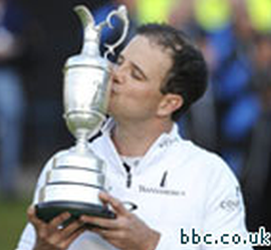 Originally published in The Christian Institute
The winner of this year's Open golf tournament has given thanks to God for giving him his sporting talent.
American Zach Johnson, who came from behind to win in a closely contested finale, said that he had been reciting verses from the Bible to stay focussed.
His words strike a similar chord to those of fellow American golfing champion Bubba Watson, who thanked his "Lord and Saviour Jesus Christ" after winning the Masters.
'I thank the Lord'
Johnson told reporters: "I was reading bits of scripture to myself, things like Psalm 24:7", which reads, "Lift up your heads, O you gates; be lifted up, you ancient doors, that the King of glory may come in."
He continued: "I've been reading them all week. I thank God for the talent he's given me, and I take it seriously."
After his win, Johnson told reporters that in the close final stages of the tournament: "I was standing there, honestly I was reciting some scripture that I have in my book just to kind of keep me in the moment. I was doing it all day, all week, and I was getting prepared".
"I had some scripture going in my head and I thank the Lord", he said.
Glorifying God
The golfer has a history of speaking openly about his faith.
After winning the Masters in 2007, he told the waiting media: "regardless of what happened, my responsibility was to glorify God. Hopefully, I did".
The golfer refers to his pre-Christian life as "my blind years" and says that his faith is "all that matters".
'Rejoicing'
Before his Masters victory last year, Bubba Watson was encouraged to read Philippians 4:11: "I have learned to be content whatever the circumstances".
Following his win, he tweeted: "Wow. I can't believe I have another @The_Masters green jacket! Such an honor. #Rejoicing".