Originally published in Christian Today
Worship leader JD Douglas, who is part of the Christian band Hillsong United, is grateful for the opportunity to lead people in the presence of God through music, However, the pastor says nothing can ever beat the feeling the whole band gets whenever they help impoverished families through their ministry Compassion International.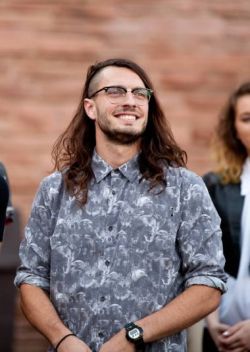 "One of the better definitions of poverty I've heard is that it's the absence of choice. We all have choice in our lives in this affluent world, but children in poverty don't have a choice," Douglas tells the Gospel Herald.
"So the result of ministry work like that we do with Compassion is that a remarkable number of life-changing opportunities are given to children in need. They receive the gift of choices."
Douglas says everybody has a choice, on how they'll follow Jesus' call to care for "the least of these." One of the biggest revelations Douglas says he had throughout all of his years in ministry is that "God is far more interested in our availability than He is in our ability."
Once people realise this, the musician says it will no longer matter if people think they have a lot of gifts or abilities to share, because God is only looking for people to come to Him and change other people's lives.
"I don't have to be the world's greatest singer to be a worship leader; and you don't have to be the finest fill-in-the-blank to change the lives of others through serving in the ministry, He has called you to. When we show up, He shows up — and incredible things happen through us and to us," he assures.
When he is serving for Compassion International, Douglas says all he does is connect with the people he's helping by enjoying a game of basketball or soccer with them. They also dance or sing together, as well as share intimate conversations and lighthearted laughs and smiles.
"We have a saying that we can't do everything, but we must do something. It's really confronting to look into the face of a child in such desperate circumstances but also realise that it doesn't take much to make a positive difference in their lives," he says.