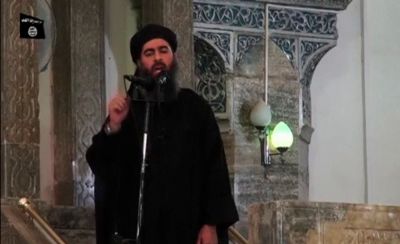 Originally published in The Christian Post
Iraqi officials said on Sunday that Abu Bakr al-Baghdadi, the leader of ISIS or Islamic State terror group, was wounded in a U.S.-led airstrike on a convoy of militants in Iraq, and a security strategist said the attack killed his close aide.
While Pentagon officials said they cannot confirm whether al-Baghdadi was in the convoy that was targeted, Iraq's Defense and Interior Ministries issued statements saying the ISIS leader had been wounded, according to The Associated Press.
An Iraqi Interior Ministry intelligence official also cited informants within the terror group as saying that the ISIS leader was hit in the town of Qaim in Iraq's western Anbar province.
Auf Abdulrahman Elefery, a "very close companion" of al-Baghdadi and also known as Abu Suja, was killed along with several other members of the ISIS when planes struck the group's convoy on Friday night, Hisham al-Hashimi, an Iraqi security strategist, told The Telegraph.
"He and Baghdadi were rarely separate. It's for this reason that it could be possible that Baghdadi was with him [at the time of the attack]," al-Hashimi was quoted as saying. "There are more 20 other people were killed in the US air strike but they are not senior in the organization."
Baghdadi was supposedly an Islamic preacher at the time of the 2003 U.S. invasion of Iraq. He later became a militant and was briefly detained by American forces at Camp Bucca, according to Defense Department officials.
Baghdadi, who is in his early 40s and has a $10 million U.S. bounty on his head, then allegedly met and received training from al-Qaeda operatives, and later became the leader of the ISIS.
The U.S.-led coalition has been conducting airstrikes on ISIS positions in Iraq and Syria since August.
On Friday, U.S.-led airstrikes destroyed a convoy of 10 armed trucks in the attacks on a gathering of ISIS leaders near Mosul.
A Mosul morgue official said about 50 bodies of ISIS militants were brought to the facility after the airstrikes.
The U.S. has now also doubled the number of its troops in Iraq to fight ISIS militants.
While there are about 1,400 U.S. troops in Iraq, President Obama Friday authorized Defense Secretary Chuck Hagel to send 1,500 more troops to train and assist Iraqi forces in fighting ISIS militants, as was requested by Iraq's government.
ISIS, an al-Qaeda offshoot also known as ISIL, now controls large parts of territories in Iraq and Syria, and seeks to form an Islamic emirate in the Levant region through "jihad."
ISIS is seen as the most brutal jihadist terror group. According to reports, U.S. journalists James Foley and Steven Sotloff and British aid workers David Haines and Alan Henning, who have been beheaded by ISIS militants, were subjected to severe physical torture, including waterboarding, and a majority of them converted to Islam under duress