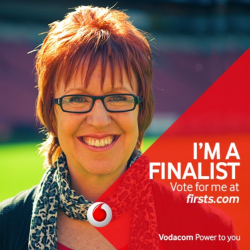 In August, we ran an article about JOYburg and Sue Jameson's ambitious plan to 'call out the gold,' and transform the city of Johannesburg. We have an update from Jameson regarding the #Firsts competition that she entered. 
"I am delighted to let you know that I am a finalist. My #First is to organise a laughter mob and set a world record with the most number of people laughing together. However, there is a much greater purpose, and that is to use the event to transform lives and the city with the power of joy and laughter… and to introduce a new identity for Joburg – JOYburg the City of Joy!" 
She says that a documentary of previous winners has had over 3.3 million views on Youtube, noting that winning this competition would serve as an amazing launch pad for the JOYburg initiative. Jameson says, "There is more than enough bad news… but we can make a difference! Winning this competition will mean a truly miraculous opportunity to share the JOYburg vision of city transformation with South Africa and the world." She adds, "We have huge dreams for that day and Ellis Park is still calling!" You can visit the website, www.joyburg.co.za or LIKE the JOYburg Facebook page for more information. 
Power in the sharing
Voting is open to the public and she is appealing to everyone to vote for her – or even one of the other finalists if they have a different favourite. She says that every vote is precious to her, but that the power is in the sharing. She asks that people vote and then share the link via email, Facebook, Twitter and anywhere else, and ask their friends and colleagues to do the same. Currently Jameson is in 2nd place but voting only closes on September 30, so there is plenty of time to rally support. 
You can watch her video and vote here… http://www.firsts.com/content/vodafone-firsts/za/voting.html