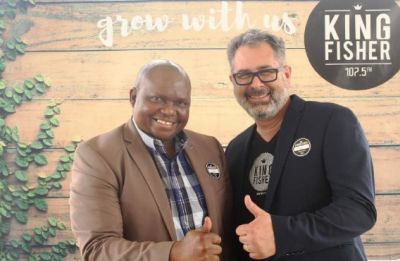 Nelson Mandela Bay Christian radio station Kingfisher FM this week celebrated 21 years of broadcasting.
"Kingfisher FM has so much to be grateful for and so many people to thank from one of the founders Manie Steyn to current head of our board Wouter van der Westhuizen. In short we cannot count the amount of people that have believed in and given generously of their time, talent and finances to our station," said station manager Alan Ahlfeldt in a press release.
He said: "The churches, businesses and community at large have stood by the station. Over the past few years since I have taken position as station manager we have developed our value set to be the acronym HEAR.
"HEAR is about bringing HOPE to our metro, being EXCELLENT in what we do, presenting ourselves AUTHENTICLLY, being RELATIONAL and underpinning all with the love of Christ.
"We are radio with HEART and being a community station means that we serve, lend a hand to, are interested in and find common ground with our community. I believe that over the years Kingfisher FM has done just that. We are a community of interest Christian Radio Station and are serious about being a platform for the church and developing the community of our Metro.
"None of this is possible without a strong team. Our team is small but highly skilled and I am very proud of them. I see good things ahead for Kingfisher FM and NMB!"
The Kingfisher FM team celebrated their coming of age in style at The Sentry at Hopewell Conservation Estate by Mantis Group. Deputy Mayor Mongameli Bobani congratulated the team on a road well travelled and a large group of clients, church communities and friends of Kingfisher joined in as the station celebrates 21 years on air.