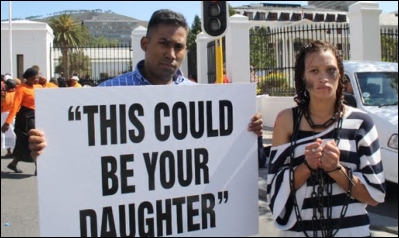 A long awaited law against human trafficking in South Africa moved a step closer to enactment when the National Council of Provinces (NCOP) adopted the "Prevention and Combating of Trafficking in Persons Bill" on March 19.
The bill, which has been before Parliament for six years, must now be signed by the President whereafter it will become an Act of Parliament — a law of the land.
Human trafficking is a multibillion rand industry that experts say is the second or third largest international crime after  illegal drugs. About 27 million people in the world today are enslaved by this crime which is driven by sexual and labour exploitation. In South an estimated 30 000 children are prostituted.
In the absence of a comprehensive law against human trafficking, South Africa has been using existing laws to prosecute perpetrators. With its specific measures to prevent and combat trafficking and offer protection and assistance to trafficking victims, the new law will be a big step forward in the fight against human trafficking.
Major Margie Stafford, Coordinator of The Salvation Army Anti-Human Trafficking board and Errol Naidoo, director of the Family Policy Insitute have welcomed the NCOP's adoption of the bill.
"However, the agenda to decriminalise the sex industry still poses a significant threat to vulnerable women and children in SA," says Naidoo in a newsletter this week.