Contact Val Viljoen to book
lessons for 2013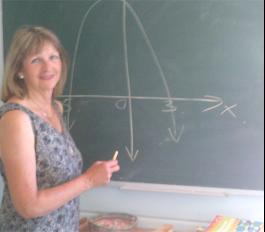 I am an experienced and qualified teacher. I offer extra maths classes for Grades 7 to 12. I teach groups of up to four learners who are all in the same Grade.
I am pleased to report that my learners consistently show significant improvement in their marks and  their attitude towards maths, and consequently enjoy a boost in confidence.
I teach in a pleasant, dedicated classroom area at my home near 14th Avenue Walmer, Port Elizabeth — close to Walmer Park.
Teaching hours are from 2.30pm to 7pm, Mondays to Fridays. During pre-exam times special, additional classes/clinics are arranged as the need arises. Lessons during holiday times may also be arranged on request.
Lessons are in English. The duration of the lesson is one hour and the cost is R100 per person, per hour.
You can use any of the following contact details to make a booking or for further inquiries. Earliers bookings mean more options with time slots. Because I do all the teaching myself and do not hire tutors, space is limited.
Tel: 041 368 2536
Cell: 083 501 3643
Email: val@extra-maths-pe.co.za