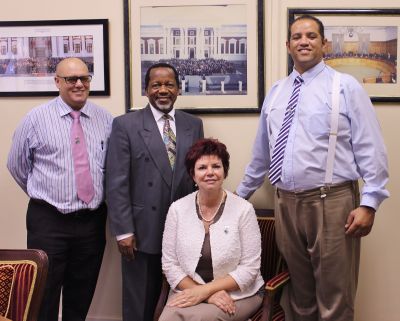 The Mighty Men Conference Western Cape (MMCWC)  marketing representatives, Ina Murison, Dmitri Murray and Pastor Arthur Hansby, met with African Christian Democratic Party (ACDP) President Dr Kennith Meshoe on February 24, 2015, reports Murison.
The purpose of the meeting was to discuss the MMC WC's mission to encourage men of the Western Cape and beyond to "…go up to the mountain of the LORD, to the house of Jacob's God. There he will teach us his ways, and we will walk in his paths" 'For the LORD's teaching will go out from Zion; his word will go out from Jerusalem. — Isaiah 2:3
Meshoe said he was thankful that the theme  adds up to what he is trying to achieve and that it t is important that the MMCWC motivate men to be steadfast in this belief, says Murison.
He also updated the marketing team about a threat to the Christian holidays of Easter and Christmas which is being investigated by the Commission for the Promotion and Protection of Cultural, Religious and Linguistic Communities (CRL) following a complaint from atheists. [See article on the Christian holidays threat in last week's Gateway News].
Murison says the ACDP leader "motivated us through God's Word that we need to take heed and make our voices known. It seems as if our free practice of Christianity is vulnerable. Therefor our voices and faith in Christ Jesus will manifest the Word which tells us that the gates of hell will not prevail. Because we as Christians turn the other cheek we are opening that window of opportunity for the evil forces to come back for more."