[notice]Pieter Pohl, founder of Innovation Films and marketing manager of CMD Entertainment Africa, sheds some light on the latest movies.[/notice]
GALLOWS ROAD — IN CINEMA APRIL 7!
GALLOWS ROAD — A tale of a tragic crime, revenge, God's forgiveness and reconciliation. See Ernie Hudson and Kevin Sorbo in this film on the BIG SCREENS in APRIL!
For more info visit www.cmdafrica.com
MOVIEWISE WEEKLY GIVEAWAY
A PERFECT CHORD DVD!

This week in partnership with CMD Entertainment Africa we will give away a copy of the A PERFECT CHORD DVD. To be in the running please share this story on Facebook, or tweet it and email news@gatewaynews.co.za with the subject PERFECT CHORD and include your name, postal address, email address and cell number. The winner will be drawn on Wednesday March 22
FAITH AFFIRMING MOVIES NOW AVAILABLE ON DVD
A PERFECT CHORD
Movie trailer & more info: https://www.youtube.com/watch?v=nb0IliQVFOA
PG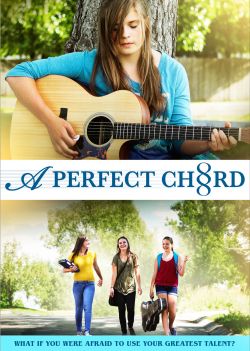 Synopsis:
Cadence has an incredible gift for music. The only problem is no one knows it. Overcome with stage fright, Cadence has hidden her talent away. She only performs in the comfortable confines of her school music room, after hours, and only for her best friend Lizzy. As the daughter of successful engineer parents, Cadence feels the pressure to be heard. Meeka comes from a classically trained musical family and must contend with her piano-genius brother. She struggles to deal with the weight of expectations as she wrestles with her talent and the style of music her heart yearns to play. A Perfect Chord is an inspiring film about overcoming fears, living up to expectations, the power of friendship, and using one's gifts and talents to inspire others.
Dove Review:
A Perfect Chord is a showcase of excellent Christian music! The movie's plot focuses on Cadence (Malia Flack), a talented teen guitar player/singer, who once fainted from stage fright and has yet to overcome her fear. She gets support from her talented parents (Mike and Katie Flack), as well as her best friend Lizzy (Avery Noel), but she can't seem to get passed the stage fright. Cadence and Liz overhear an amazingly talented pianist, Meeka (Elina Odnoralov), and Cadence and Meeka begin to play and sing together. The results are inspirational.
When Lizzy volunteers Meeka and Cadence for an open mic night, Cadence is both angry with Lizzy and terrified. Will she be able to overcome her fears and finally perform and share her gift with others? We are pleased to award this film our Dove "Faith-Friendly" Seal for all ages. The film makes it clear: fears can be overcome. Watch it and enjoy the amazing story and music! — www.dove.org
SUNDAY BLOCKBUSTER
(Sunday March 19 2017: MNET 101 20:05)
CAPTAIN AMERICA: CIVIL WAR
Movie Trailer: https://www.youtube.com/watch?v=dKrVegVI0Us
PG13VL — NOT RECOMMENDED FOR FAMILIES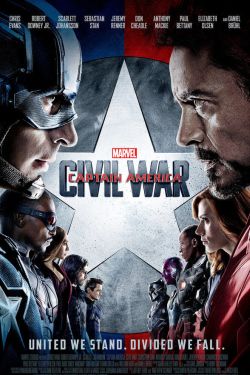 Synopsis:
Marvel's Captain America: Civil War finds Steve Rogers leading the newly formed team of Avengers in their continued efforts to safeguard humanity. But after another incident involving the Avengers results in collateral damage, political pressure mounts to install a system of accountability, headed by a governing body to oversee and direct the team. The new status quo fractures the Avengers, resulting in two camps — one led by Steve Rogers and his desire for the Avengers to remain free to defend humanity without government interference, and the other following Tony Stark's surprising decision to support government oversight and accountability. Get ready to pick a side and join the nonstop action playing out on two fronts with Marvel's Captain America: Civil War.
Dove Review:
Captain America: Civil War is an action-packed thriller with the good guys fighting the bad guys and — oh, by the way, the Avengers fight amongst themselves, too! Therefore, the title Civil War is quite appropriate. William Hurt plays Secretary of State Thaddeus Ross and, following some collateral damage when the Avengers fight their enemies in a foreign land, he declares they must now answer to the United Nations. One of the people who lost his life was a boy who wanted to use his technology skills for mankind. Captain America (Chris Evans) takes the stand that the Avengers must go where and when they need to go. Iron Man (Robert Downey Jr) believes the Avengers need to be accountable. Thus, the clash of various Avengers begins.
A new Spider-Man is introduced in the movie (Tom Holland), and the humorous scenes feature him as well as the other team members. In fact, when Ant-Man (Paul Rudd) enlarges his size immensely in one sequence, the moment blows Spider-Man away, and his reaction is hilarious, if not a bit crude. In addition, Stan Lee's customary cameo is laugh-out-loud funny. I won't give it away, but I will say he mispronounces Tony Stark's name, and the result is comedy at its best.
The gang includes not only Captain America, Iron Man, Ant-Man and Spider-Man, but also Scarlett Johansson as Black Widow, Anthony Mackie as Falcon, Jeremy Renner as Hawkeye, Paul Bettany as Vision, and Elizabeth Olsen as Wanda Maximoff, also known as Scarlet Witch. The movie has a lot of cool scenes, including the one in which Captain America uses his immense strength to prevent a helicopter from taking off. A revelation near the conclusion carries quite a wallop for Tony. Unfortunately, and regrettably, the use of strong language prohibits us from presenting the movie with our Dove Seal. Sadly, that is the only thing that spoils the movie. — www.dove.org