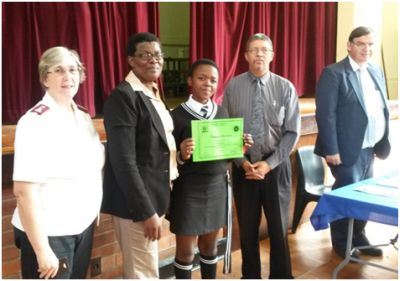 As part of the Human Rights Day celebration this year, a competition was held for primary and high schools.  The theme for the competition was the aspect of Human Trafficking.  Learners from the Port Elizabeth schools were invited to submit posters, poems or a rap song to illustrate the dangers of human trafficking. Winners were selected from the entries in the different categories.
A special function was held at Cillié High School, Port Elizabeth, on Wednesday, May 27, 2015, chaired by Dr A Lombard,  to present a certificate, as well as a gift voucher to each of the winners.  
In the poster competition the following learners received certificates, as well as a voucher to purchase school supplies:   In first place was Ofunwa Khumalo, a Grade 7 learner at Victoria Park Grey Primary School.  In second place was Siyanda Monki. a Grade 7 Learner from Elundini Primary School.  In third place was Khumbuzile Vukemini, also a Grade 7 learner at Philip Nikiwe Primary School.
In the category for rap songs, the winner was Vuyelwa Qomoro, a grade 9 learner at Loyiso High School.   In the last category for poem writing, the first prize was awarded to Isabella Liss, a Grade 10 learner at Theodor Herzl High School. Second place went to Athenkosi Mahaia, a Grade 10 learner at Loyiso High School.
The prizes were sponsored by the Nelson Mandela Bay Justice Coalition, who is involved in awareness of the prevalence of human trafficking in our communities. It is the second year that the Department of Education has partnered with the coalition around this matter.  Learners and guests were welcomed by the CES for Curriculum, Mr. Myron Leonard.  Major Margaret Stafford of the Salvation Army then shared information on recent cases in the province, where children were involved in trafficking.  The certificates and vouchers were handed over by Isaac Metembo, DCES for Intersen. Learners also shared their winning  poems and rap songs at this occasion.