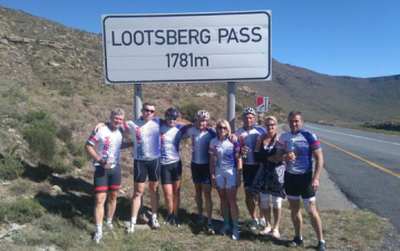 A visit by Frans Cronje, the filmmaker of "Faith like Potatoes" and "Hansie" fame, who lives in Cape Town, to his friend Franco Smith, head coach of the Toyota Cheetahs, ended-up in the two deciding to challenge themselves by cycling from Bloemfontein to Cape Town's Sea Point!
Frans, Franco and seven of their friends are not simply pedalling the 1 146 kilometres to Cape Town, but are making their pedalling count by cycling the distance in only seven days under the banner of the "Pedal 4 Purpose" organisation to raise funds for Beudene, which is a provider of specialised day care and therapeutic groups for children with special needs in Bloemfontein, and Alta du Toit Aftercare Centre for adults with intellectual disabilities in Cape Town.
Finding purpose in relationship with God
Having a cause and purpose in life is a central theme of the cycling tour and the message the team spreads as they ride – finding your purpose through a relationship with God.
Etienne van Heerden, the founder of Pedal 4 Purpose, got hooked on the healthy cycling lifestyle in 2011 when he rode his first Cape Argus Cycle Tour, which was an absolute eye opener into the world of cycling.
"To see so many cyclists together was something completely out of my frame of reference, coming from the rural Overberg. I was astounded to see so many people who pedal for some purpose.
"There were people with rhinos built around their bicycles, those who cycle for global warming and other environmental issues, cancer, and the list goes on and on. I was so motivated by everyone who cycled for a cause close to their heart.
"I cycled to church the next Sunday with all my cycling gear on, and delivered a message on the lessons I had learned from the cycling tour. Without even knowing it, this was the start of a cause that I would later call: Pedal 4 Purpose," says Van Heerden.
Cycling has become a big part of his life since then.
Van Heerden spends much of his free time cycling on his mountain bike around the Bredasdorp and Soetmuisberg hills that he says are "like medicine to my soul".
'Preekstoel'
"Right up on the southern side of the Soetmuisberg Mountain is a big upright rock, called the Preekstoel (pulpit); it is called so because of its prominent position and stature overlooking the beautiful Nuwejaars Wetland Special Management Area and the Agulhas National Park.
"You can even see the white dunes of Waenhuiskrans, Arniston and Struisbaai from there. The Preekstoel, became my prayer rock! I often cycled to that rock, to pour my heart out before God, and this was the pulpit from which God talked to me. I love that place.
"I had countless conversations with God at that rock! It became my chatting room with the Rock of Ages.
"It was at this peaceful place, where I first felt compelled by the overwhelming presence of God in the breathtakingly natural surroundings, to direct my life to purpose, instead of pounds! Pedal 4 Purpose was born on that day!
"On 13 March 2013, I had one of those conversations with God: 'Please guide me towards the dream You have for me!' One of the messages I received on that day was Proverbs 20:18 (MSG) which reads, 'Form your purpose by asking for counsel, then carry it out using all the help you can get.'
"This became the slogan for Pedal 4 Purpose," says Van Heerden.
He explains that late in 2012, one of the teachers at Rûens College in the Overberg was in a car accident on her way to school, that left her paralysed from her lumbar vertebrae down.
She was a great sportswoman, but had been bound to a wheelchair, because of the accident!
Compelled to act
"I was emotionally compelled to do something meaningful, and this young school teacher became the first purpose I peddled for," says Van Heerden.
"The local community radio station heard about my initiative, and various radio interviews followed. I was totally overwhelmed by the community's response!
"My first pedal for purpose was on 13 April 2013, and the community pitched-in by the dozen, all to make their pedalling count!
"I raised enough funds to pay a local engineer to design and build a mechanism that could take a paraplegic out of their wheelchair, put them in a swimming pool, and raised them back form the pool into their wheelchair after exercise.
"The mechanism was installed at Rûens College's indoor, warm-water, swimming pool.
"After this initial event, I raised funds for a congregation member's son who was paralysed in a car accident.
"With this money a hoist was constructed in his bedroom and shower, so that his mother could hoist him out of his bed, and put him in his wheelchair. A rail was constructed that would guide him into his shower and back," says Van Heerden.
Meaningful causes
His vision for Pedal 4 Purpose is to build a platform for cyclists to combine their pedalling power into a powerful purpose to add value and make a difference to meaningful causes.
Frans Cronje bought into this vision and is a keen member of Pedal 4 Purpose.
He says it is a great privilege riding with the team to Cape Town, because it is more like a family than a group of cyclists, even though some of the participants did not know each other before the event began.
Cronje says cycling has changed his lifestyle.
"It began five years ago when I started cycling to get fit and lost 23-kilograms.
"However, this event started when Franco wanted to do something that would extend himself beyond his own capacity, so that it could be an example to his players at the beginning of next rugby season and also make a difference to worthy charities.
"We chose two beneficiaries, one in Bloemfontein and one in Cape Town for whom we would also like to raise funds and awareness," says Cronje.
However, all has not been easy going during the event.
Horrific accident
Participants experienced a horrific accident when two riders' tyres touched while they were travelling at 50km an hour.
One of the riders was hospitalised with broken ribs, a punctured lung and two broken collar bones.
Yet even the accident had its positive side.
"A passer-by stopped at the accident scene, told us she was a paramedic, and took control of the situation, bandaging the wounds and stabilising the injured until they could be transported to hospital," says Van Heerden.
"This woman was like an angel from heaven; she took control of everything. I'm sure that if it wasn't for her the outcome could have been much worse.
"Afterwards, I sent her an SMS to thank her and she replied telling me that on the day of the accident she had written a nursing exam and was questioning her ability to be a nurse.
"I said, don't stop, you have a great purpose in nursing," adds Van Heerden.
Cronje says all the participants in the cycle tour share a passion to live with purpose and to make a difference.
"It is that passion to make a positive difference that we want to extend to others through being an example of pedalling for a purpose.
For more information go to www.pedal4purpose.co.za