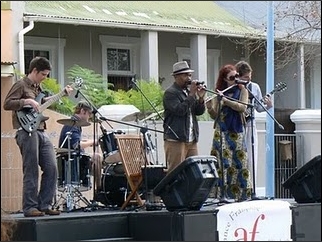 Several streets of Port Elizabeth's vibey Richmond Hill will be transformed into an ecelectic, open air music and café meander once again during the second Richmond Hill Street Music Festival on Saturday June 18.
The first street music festival, launched by Alliance Française of Port Elizabeth during the buzz of the Soccer World Cup last year was a great hit with music lovers, many of whom expressed the hope that the event would be repeated. Thanks to a collaboration of Alliance Française, the Summerstrand Hotel, Kingfisher FM, the Mandela Bay Development Agency and restaurants and coffee shops in the neighbourhood, the festival is indeed back again.
So far Fushin, Vovo Telo Pizzeria and bakery, Pescadiya, Bain Street Grill, Flava, Deli Street Café, Chilli Bean Cantina, Delicia, Bahia Lounge, Home Bru Harvest, Camden, Piemontese, Yiayias and The Irie have all decided to join the Alliance Française in this festivity of music including Soul, Electro, Reggae, Hip Hop, Folk, Rock, Pop, Acoustic, Jazz, Funk and Improvisation.
A small area of the suburb: Mackay Street, Stanley Street, Raleigh Street, Lutman Street and Landsdowne Street will be closed to all traffic for the duration of the fest. A main stage will be set up on Stanley Street and will welcome, amongst a variety of local bands, a Soul-Pop-Rock band coming from Swaziland: Nancy Ginindza.
Meri Kenaz, Take Note, Jam Room, Cotton fields, Mo'Jazz, Futomato, Ubuhlebe Africa, Onerve, CCH Jazz Combo, Chris Frost, Billy Paulson and more … are just some of the artists that will be performing on the day however any musician that wants to perform on the day of the event is welcome to plug and play. The festival will run from 10am to 10pm.
You can read more on the event's facebook page. Download the final programme here.