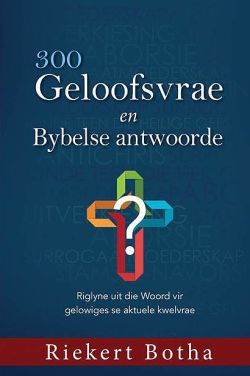 Prolific author, radio personality and public speaker Riekert Botha will be hosting public discussions about his latest book — 300 Geloofsvrae en Bybelse antwoorde — in Somerset West on June 10 and in George on June 17.
The events will be respectively at 10am in the CUM Books stores in Somerset Mall (close to Game) and Garden Route Mall (close to Jet).
Botha's new book gives biblical answers to 300 questions of the kind facing people today, for which it sometimes feels there are so few answers. "Is it right to have a Christmas tree on Christmas? Are angels still visible today? What it means to 'rest' on a Sabbath…"
Botha and his wife Pippa, partner in a ministry called Vita Dei (The Life of God), derived from John 1:4-5 — In him was life, and that life was the light of all mankind.  The light shines in the darkness, and the darkness has not overcome it."
The couple started their ministry in 1991, shortly after they married. After five years they served as missionaries in Ukraine, for five years. Thereafter, they accepted a call to the Vredendal Baptist Church.
Botha is renowned for the programme Pleisters vir die Siel on RSG and has travelled countrywide to present seminars at schools and churches, since 2012.
The Bothas own a bookstore in Hermanus and also sell jewellery created from natural stones and materials, such as glass, copper, leather and semi-precious gems. See more on the website: https://www.riekertbotha.co.za/