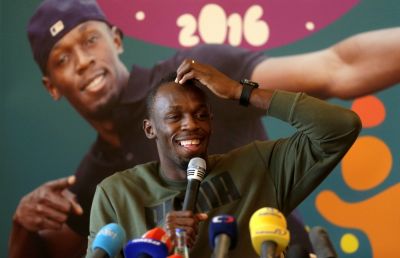 Originally published in The Christian Post
Usain Bolt is counting his blessings as he prepares to defend his gold medals in the Rio De Janeiro Olympic games this summer.
"Blessed to finish my first race for the season with a W," the 29-year-old Jamaican sprinter known as the fastest man in the world tweeted to nearly 4 million fans on Saturday.
Bolt began his season with a win at Cayman Invitational last weekend where he finished the 100 meters race with a 10.05-second victory. The Christian athlete also thanked God for being able to walk out of the race without an injury.
"Blessed to have finished the race injury free," he wrote on Instagram earlier this week.
For years, Bolt has been vocal about his Christian beliefs that were instilled in him at a young age. But the athlete admits that a nearly fatal car accident in 2009 strengthened that faith.
he accident) has made me look at my life. But I was brought up as a Christian with my parents," he told BBC 5 in 2013. "When I got to Kingston, I didn't go to church as often, but I have gone to church a lot more (now). (I don't go to church) as much as I should, but I have gone a lot more."
Speaking about the accident, Bold said: "There are so many things that could have happened in that car crash and I came out unscathed. No problems, so I just look at it that I am just blessed to run, and from that I just wanted to inspire people."
Bolt made history in the London 2012 Olympic Games as the first man to ever defend the 200M Olympic title after winning the event at the Beijing 2008 Olympic games. The athlete glorified God on Twitter for his coach Glen Mills who helped him train for the Olympics.
"A lot a thanks goes out to the greatest coach ever, Glen Mills. Really blessed the day the Heavenly Father brought you in my life," Bolt tweeted. "I want to thank GOD for everything he as done for me cause without Him none of this wouldn't be possible."
This summer, Bolt is preparing to defend his 100, 200 and 4×100-meter titles for a third-straight Olympic victory.