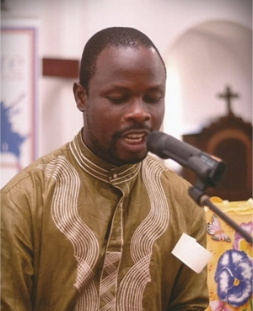 The 'Africa Bless Israel' organisation founded by Reverend Albert Mbenga-Ukulangai has inspired the creation of a song called Africa Arise.
The song features singers from western, southern, central and eastern Africa and was written by John Osa, the founder of The Rebirth of Africa Vision and pastor at the Kingdom Heirs Assembly in Rivonia, Johannesburg.
The Africa Bless Israel song calls: "Arise, arise, arise, shalom, Africa bless Israel".
The words of the song include: "Men and brethren, what you see and hear today was once prophesied by the prophet Isaiah, that a day would come, when an altar will be raised in the midst of Africa to the God of Abraham, this day that prophecy is fulfilled before your eyes, the set time come, a change of position for the people".
Listen to the song:
Pastor Osa says it is remarkable that Reverend Mbenga-Ukulangai, who is the visionary behind the Africa Bless Israel organisation was born in the Democratic Republic of the Congo, which is in the middle of Africa, but has been led to South Africa, which is the gateway and mouthpiece of the continent, to spearhead the organisation.
"He has been guided here by God's winds of destiny to fulfil a prophetic mandate upon South Africa and Africa."
Reverend Mbenga-Ukulangai says the prophet Isaiah (Chapter 19) speaks of a future where there will be a highway and unity between Israel, Assyria and Egypt.
Sign of the times
While this seems like a far cry from present realities, Mbenga-Ukulangai, who has been a resident in Cape Town for 10 years and is passionate about Africa, has recognised this as a sign of the times and a call to action. He says Africa Bless Israel's mission is to change the heart of Africa towards Israel.
"Although in its past Egypt provided a refuge to Abraham, Jacob, Joseph, Moses and later to Joseph, Mary and Jesus, both Egypt and the many African countries in modern times have turned their backs on Israel.
"Following the Yom Kippur War (1973), many African countries severed ties with Israel and chose to side with Egypt, and the Arab world against Israel. This was in spite of the extensive work Israel was doing in those countries in agriculture and health.
"Many commentators see this as a turning point in these countries in particular, but in Africa in general and leading to all sorts of problems that today plague African countries."
Mbenga-Ukulangai says understanding that in the context of Genesis 12:3 "And I will bless them that bless thee, and curse him that curseth thee: and in thee shall all families of the earth be blessed", this 'curse' or downturn in Africa's fortunes has to be addressed through both repentance and an act of welcoming Israel back into Africa.
"Africa needs to become a continent that blesses Israel for Israel's sake but also in the light of Genesis 12:3, for Africa's sake," says Reverend Mbenga-Ukulangai.
His vision is to add momentum and to harness the growing perception of Christians of Israel's significance and from across the continent to gather together in unity to honour God through a stand of solidarity with Israel and in repentance for past actions against Israel.
Mbenga-Ukulangai says Africa Bless Israel is being embraced with enthusiasm by local church leaders and many with strong ties to other African countries, which will help set a precedent for similar events to be held elsewhere on the continent.
Osa believes the rebirth of Africa is closely connected to the continent's blessing of Israel, because part of the foundations that need to be laid for the continent's season to come into fruition is its alignment with Israel.
"The Africa Bless Israel song is a call for Africa to arise and bless Israel. Know your place with Israel, know that no nation can fulfil their prophetic destiny without honouring Israel, because part of God's sovereign covenant with Abraham in Genesis 12:3 was "… and in thee shall all families of the earth be blessed".
Birthing call
"The onus is on South Africa to lead the rise of Africa by birthing the call for Africa to bless Israel," says Pastor Osa.
He says in July 2009, the Lord said to him, "your fathers' generation was not called to take Africa for me. They were called to declare my word for Africa. Your generation will take Africa for me."
Osa then began launching the Rebirth of Africa Vision.
"This was first revealed through the Rebirth of Alexandra project in September 2009. At the time of this project, the Lord revealed that the Rebirth of Alexandra was a prelude to the rebirth of the nation of South Africa and the rebirth of the continent of Africa.
"However, the rebirth of the continent is connected to Africa blessing Israel to gain the prophetic anointing of the covenant that God made with Abraham."
Osa says it is the Rebirth of Africa Vision's mission to create a platform for prophecy to influence policy.
"We believe that this way, we will go beyond declaring the word of the Lord for Africa by taking this word to a place where it is implemented and has the desired impact… taking Africa for Him as in Revelation 11:15 And the seventh angel sounded; and there were great voices in heaven, saying, 'The kingdoms of this world are become the kingdoms of our Lord, and of his Christ; and he shall reign for ever and ever.' "
The hope, according to Osa, is that Africa Bless Israel will be the start of a movement for Christians from each continent of the world to: "Arise, arise, arise, shalom, and bless Israel … To stand with the nation of Israel".
"We believe that what God started in Africa He will inspire other nations to follow," says Osa.