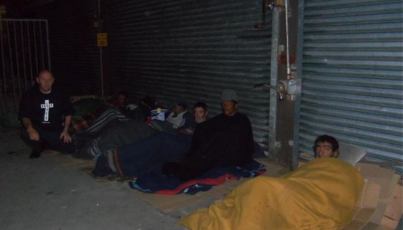 Cape Town Christian activist Peter Throp is taking the city to task for its allegedly inhumane treatment of  homeless people.
In an email sent to the Mayor of Cape Town Patricia de Lille last week he says city officials unjustifiably confiscate possessions such as blankets and personal papers from homeless people; use unreasonable force against them — including pepper spray and 'Tazers'; and jail some of them simply for being homeless.
The alleged injustices are disputed in principle by  Cape Town Executive Director:  Safety and Security, Richard Bosman, in an email to Throp.  Bosman says that sometimes his officials have to use justifiable force when attacked by vagrants and that on occasion wanted criminals hide among homeless people.
He concludes his email saying: "Having said that if you have any information on misconduct by my staff then please submit such to me in order for it to be substantiated so that the offenders can be dealt with."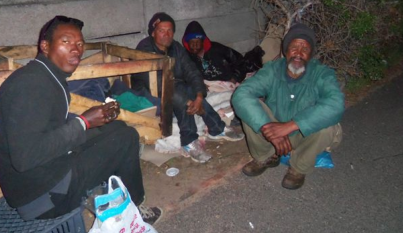 Throp, who is already embroiled in a dispute with the City over his Value Life sticker campaign against illegal abortion advertising on city streets, has sent another email to De Lille, calling for an investigation into the alleged injustices.
In Throp's latest email to the Mayor he says: "I think it would be honourable for you to demand and give directive for a
proper impartial investigation relating to the four questions I have raised. You must know from your past experience that any injustice against the 'downtrodden' must be exposed and eliminated for the good of the Nation
"My letter clearly states that I have witnessed these injustices, so I am offended when people brush me off as a liar. I have nothing to gain by standing up in defence of these homeless people."
In an email to Gateway News he appeals to  any other people who may have seen mistreatment of homeless people by city officials to call him at 073 280 0555 and to write to the Mayor at mayor@capetown.gov.za.
"I am very concerned that our nation is so sick that some human life will suffer like experienced in the past under elite regimes such as has been witnessed under Hitler and Stalin," he writes in his email to Gateway News.
He continues: "Our leaders have to know that some of us are watching.   I have seen 5, yes five law enforcement officers kicking one poor human being on the ground, and when I stopped, some of them moved towards me and I am so ashamed of my
failure to help that poor soul as I just drove off as quick as I could.
"God has since given me strength to stand against our nation's shame. ( read Jeremiah 22:15-17.)"
In an email sent to Bosman on Monday (September 24), Throp says: " I will, by the grace of God find somebody who will address this problem even if it means taking affidavits from the homeless and taking the City to task.   I did not bring this injustice to the Mayor's attention to be fobbed off by 'spin' from a City official."