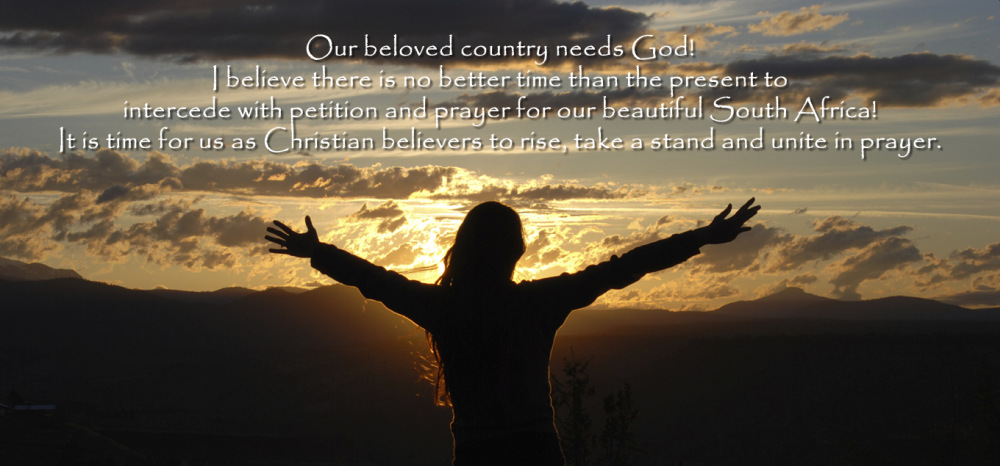 The 6th annual United Prayer for South Africa (Up3SA) prayer event will take place from 7am to 8am on Sunday March 28, says founder Robbie Black
For the last few years more than 250 towns/prayer groups joined in the initiative and "we are trusting the Lord for increased numbers and trust that more prayer groups will be participating" this year, he says in a promotional email.
"We are focusing specifically on grassroots "commUNITY" prayer," he says.

Because of the Covid-19 pandemic, the format of this year's event has been changed to a live prayer session broadcast through Wild Coast FM which will be accessible nationwide through their website [You can listen here: https://radio.garden/listen/wild-coast-fm-98-6/nRfFxToR ]

One person from each of SA's nine provinces will pray live "telephonically" during the hour slot, covering some critical concerns in the nation. Farmer evangelist Angus Buchan will also pray and share a word of encouragement. 
 
Black says that Up4SA also want to encourage participants to partake in the 24/7 Week of Prayer for Revival presented by Jericho Walls from March 29 to April 4.
You can register your church/prayer group for the Up4SA event on WhatsApp at 082 462 1540 / 073 899 2323, via email at admin@up4sa.co.za or online at www.up4sa.co.za
And you can confirm your participation in the 24/7 Week of Prayer for Revival by sending an email to Daniël Brink at watch@jwipn.com. He can also be contacted on 083-321-6909. 
Subscribe to our weekly newsletter to stay up to date with God stories of Africa and beyond