Moviewise — May 12 2017

Pieter Pohl, founder of Innovation Films and marketing manager of CMD Entertainment Africa, sheds some light on the latest movies.
FAITH AFFIRMING MOVIES NOW AT CINEMAS!
FREETOWN
MOVIE TRAILER & MORE INFO: https://www.youtube.com/watch?v=dU77kmra_B0
PG13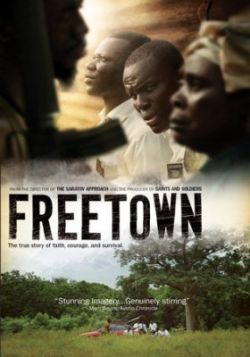 Synopsis:
Caught in the middle of a brutal civil war, six Liberian missionaries in Monrovia flee the widespread violence of their native country. Their destination: Freetown, Sierra Leone. With the help of local church leader Phillip Abubakar, the missionaries make the difficult journey, only to have their troubles compounded by a rebel fighter bent on killing one of their own. Freetown is a thrilling and inspiring story of hope and survival.
DOVE Review:
"Freetown" is a gritty and dramatic movie about a war-torn civil war in Liberia and is based on a true story. The film takes place in 1989 in Liberia. Extremists have power, won by a fraudulent election that showed favouritism to members of the Krahn Tribe. Rebel fighters retaliate against the government. They seek out those sympathetic to the Krahns in order to kill them. Tribes fight among themselves — hence, the birth of the civil war in Liberia. In the midst of this war, a man named Abubakar, along with several Mormon missionaries, attempt to convert people to their faith and flee to safety.
The film features the killing of several people, but the camera always pans away from the moment of the shootings and death, making it much less violent than it would have been. The film features themes of perseverance, prayer, and patience. A few scenes feature people offering prayers up to God and a church scene in which communion is prepared. Also, a young woman is baptized. Fortunately, the war finally ended about seven years after the missionaries arrived at Freetown. The movie has a nice ending. Regrettably, due to the "other" content, featuring the comment about Joseph Smith, we cannot award the film our Dove Seal. – www.dove.org
SUNDAY BLOCKBUSTER
(Sun 14 MAY '17: MNET 101 20:05)
MOTHER'S DAY
MOVIE TRAILER: https://www.youtube.com/watch?v=2BPr217zLps
PG13L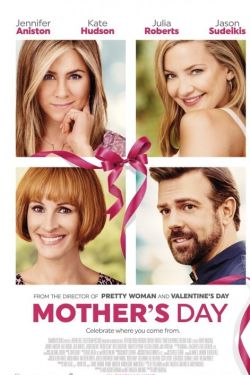 Synopsis:
Bringing together Jennifer Aniston, Kate Hudson and Julia Roberts, along with Jason Sudeikis, it's a celebration of mothers everywhere. This big-hearted comedy invites us all to enjoy the laughter, tears and love, as three generations come together in the week leading up to Mother¹s Day.
DOVE Review:
"Mother's Day" features several laugh-out-loud moments but also contains strong content, including language. Jennifer Aniston plays Sandy, a woman who gets a big surprise when she learns her ex-husband, the father of their two sons, has just remarried a woman quite a bit younger than him. The adjustments they all go through are not easy. The plot is also about a widower named Bradley (Jason Sudeikis) and the difficult task he has in raising two daughters. He wants to treat the upcoming Mother's Day as just another day, but the girls want to honour their mom's memory. Their mother was an ex-marine who has been gone just a year. Bradley still misses his wife and plays old videos and thinks of her often, but being a single parent isn't easy. One of his daughters tells Bradley, "Mom was never late for soccer practice." Finally, two other plots in the film revolve around Sandy's friend, Jesse (Kate Hudson), who is not speaking to her parents, due to the fact that her mother was against her dating a man from India. What her mother doesn't know is that she also married him and had a child, too. Britt Robertson plays a young woman named Kristin, a new mother, who keeps turning down her boyfriend's marriage proposal for a certain reason: She's afraid of getting a divorce. Julia Roberts plays a Home Shopping Network host and that figures into the plot, too, specifically regarding Kristin.
Some of the issues the characters confront in the movie include a mother learning her daughter has a lesbian partner and another woman adjusting to her two boys having a new stepmother. The humour is tame, at times, such as when Sandy gets her arm caught in a vending machine when the candy she bought gets stuck. Some of the humour is more suggestive, such as when a boy puts his lion suit on backward for a school play, and the tail is no longer in the back but in the front. At any rate, despite some nice moments and the daughters in the film working things out with their mothers and, in one case, their father, the content is strong and prevents us from awarding the movie our Dove "Family-Approved" Seal. We encourage parents to check out the content listing. – www.dove.org
PLEASE SCROLL DOWN TO MAKE/VIEW COMMENTS
ADVERTISEMENTS:
---
COMMENTING GUIDELINES:
You are welcome to make comments that add value to the article above and to engage in thoughtful, constructive discussion with fellow readers. Comments that contain vulgar language will be removed. Hostile, demeaning, disrespectful, propagandistic comments may also be moved. This is a Christian website and if you wish to vent against Christian beliefs you have probably come to the wrong place and your comments may be removed. Ongoing debates and repetitiveness will not be tolerated.