Home � Arts � Film & TV �
'All Saints' and 'The Star': two new Christian movies showing at cinemas nationwide
'All Saints' and 'The Star': two new Christian movies showing at cinemas nationwide
All Saints is a new Christian film which was released in South Africa on November 10 in Ster-Kinekor, Nu Metro and Independent theatres nationwide.
It is an inspiring, true story, brought to the big screen by Sony Productions' Affirm Films that also released War Room and Miracles From Heaven.
The Star, an animated production from Affirm Films, which brings a fresh new feel and look to the greatest story ever told, through its humour and new music, opens at cinemas on November 17.
As the movie's slogan goes "It takes many tails to tell the greatest story ever". The film will appeal to young and old, as the story of Christmas is witnessed in a fresh way through the eyes of the animals.
All Saints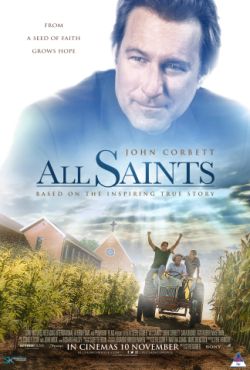 All Saints stars John Corbett (My Big Fat Greek Wedding) and tells the inspiring true story of salesman-turned-pastor Michael Spurlock.
Ordered to shut down a tiny church, Spurlock (Corbett), with a group of refugees from Southeast Asia, band together to risk everything to plant seeds for a future that might just save them all. All Saints also stars Cara Buono (Stranger Things), Myles Moore (Hot Summer Nights), Nelson Lee (Hawaii 5-0), Barry Corbin (No Country for Old Men), David Keith (An Officer and a Gentleman), Gregory Alan Williams (Hidden Figures), and Emmy Award-winning Christian comedian Chonda Pierce.
The story of All Saints is that if you will really surrender yourself to God, and enter into that same kind of relationship with your neighbour, God will do more wonderful things than you could ever dare ask or imagine on your own.
Ted Baehr, Founder and Publisher, Movieguide® says: "All Saints is a powerful story, very heartrending and entertaining, about a pastor who hears from God and does the right thing in spite of opposition. All Saints is one of Sony Affirm's best movies."
Watch the All Saints trailer below:
All Saints is showing at the following cinemas:
Ster-Kinekor
Cape Gate (WC)
Blueroute (WC)
Somerset Mall (WC)
Tygervalley (WC)
Garden Route Mall (WC)
Gateway Commercial (KZN)
Cradlestone (Gauteng)
East Gate (Gauteng)
Brooklyn Commercial (Gauteng)
Kolonade Cine (Gauteng)
Irene Mall (Gauteng)
Cresta (Gauteng)
Manda Hill (Lusaka)
Nu Metro:
Canal Walk (WC)
Walmer Park (EC)
Park View (Gauteng)
Hyde Park (Gauteng)
Movies@Emnotweni (Nelspruit, MP)
Movies@Theridge (Emalahleni, MP)
Movies@Goldreef (Gauteng)
Movies@Monte (Gauteng)
Movies@Silverstar (Gauteng)
Movies@Hemmingways (EC)
The Star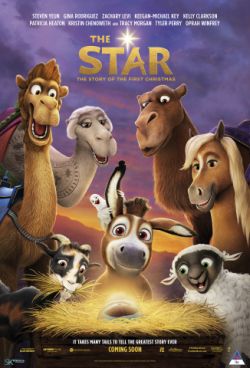 An exciting feature of The Star is the new music from a bevy of powerhouse superstars befitting of the cast's blockbuster pedigree. Leading the track listing, Mariah Carey performs the film's theme song The Star and the motion picture features fresh new music from Mariah Carey. In addition, Kirk Franklin, Kelsea Ballerini, Zara Larsson, and more serve up new tracks recorded specifically for The Star. Each artist got into the spirit with show-stopping and standout performances.
The movie tells the story of a small but brave donkey and his animal friends who become the unsung heroes of the first Christmas.
Spring Aspers, head of music for Sony Pictures, commented: "The filmmakers of The Star have delivered a funny but faithful turn on the nativity story, and Mariah Carey's soulful performance of the film's theme song adds a layer of depth and emotion that will have audiences feeling the spirit. This compilation is full of Christmas classics old and new that not only perfectly fit the film, but make the perfect soundtrack for the season."
Watch the trailer for The Star below:
The cinemas where The Star will be released Friday November 17 are:
Ster-Kinekor:
Cape Gate (WC)
Tygervalley (WC)
Blueroute (WC)
Somerset Mall (WC)
Gateway (KZN)
Cradlestone (Gauteng)
Eastgate (Gauteng)
Brooklyn (Gauteng)
Kolonade Cine (Gauteng)
Irene Mall (Gauteng)
Cresta (Gauteng)
Mall Of Africa (Gauteng)
Nu Metro:
Ballito (KZN)
Canal Walk (WC)
Clearwater (Gauteng)
Menlyn Park (Gauteng)
Park View (Gauteng)
Pavillion (KZN)
Welkom (Freestate)
Movies@Emnotweni (Nelspruit, MP)
Movies@Monte (Gauteng)
Both movies are released by Ster-Kinekor Entertainment, Sony Pictures Entertainment in South Africa.
For more information on the films and to purchase tickets, please visit www.sterkinekor.com or www.numetro.co.za
PLEASE SCROLL DOWN TO MAKE/VIEW COMMENTS
ADVERTISEMENTS:
---
COMMENTING GUIDELINES:
You are welcome to make comments that add value to the article above and to engage in thoughtful, constructive discussion with fellow readers. Comments that contain vulgar language will be removed. Hostile, demeaning, disrespectful, propagandistic comments may also be moved. This is a Christian website and if you wish to vent against Christian beliefs you have probably come to the wrong place and your comments may be removed. Ongoing debates and repetitiveness will not be tolerated.