Company of Prophets SA holding national conference in Pretoria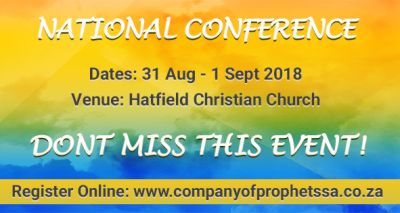 The Company of Prophets SA (COP) — a movement that unites and equips prophetic people — is holding its annual national conference at Hatfield Church, Pretoria on August 31 and September 1.
The focus of this year's conference is the seven mountains of society and the main speakers include Dr Walter Penzhorn from Germany, Dr Pearl Kupe and Tony Cooksy.
There will also be breakout sessions on what God is doing in the mountains of business and government.
Christians in South Africa are invited to come, expecting God to speak to each one of them, establishing them in their call and and confirming that which He is doing within them, say the conference organisers.
Worship and prophetic teams will be serving at the event, as well as prophetic artists and possibly dancers.
More details about the conference are available online at  http://companyofprophetssa.co.za/category/national-conference/ . You can also register online at http://companyofprophetssa.co.za/national-conference-2018-registration-form/
PLEASE SCROLL DOWN TO MAKE/VIEW COMMENTS
ADVERTISEMENTS:
---
COMMENTING GUIDELINES:
You are welcome to make comments that add value to the article above and to engage in thoughtful, constructive discussion with fellow readers. Comments that contain vulgar language will be removed. Hostile, demeaning, disrespectful, propagandistic comments may also be moved. This is a Christian website and if you wish to vent against Christian beliefs you have probably come to the wrong place and your comments may be removed. Ongoing debates and repetitiveness will not be tolerated.