MOVIEWISE — December 22 2017

Pieter Pohl, founder of Innovation Films and marketing manager of CMD Entertainment Africa, sheds some light on the latest movies.
INSPIRING NEW MOVIES NOW ON DVD!
CMD Entertainment Africa brings you inspiring new movies on DVD this festive season. The Case for Christ, Return to the Hiding Place, I'm Not Ashamed, Joseph and Mary, Peter: The Redemption and a new animation series for kids — IESODO. This Christmas season spend some quality family time together watching these thought-provoking, heart-warming and uplifting stories. Visit CUM Books and Takealot.com to get these fantastic DVD's as gifts for your loved ones.
For more info visit www.cmdafrica.com
SUNDAY BLOCKBUSTER
(Sunday December 24 2017: MNET 101 20:05)
LION
Movie trailer: https://www.youtube.com/watch?v=9DbLKvpjFQk
PG13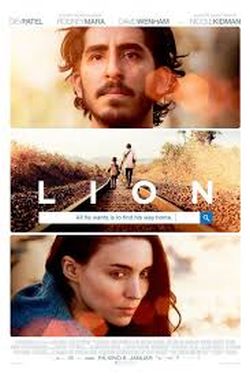 Summary:
A 5-year-old Indian boy gets lost on the streets of Calcutta, thousands of kilometres from home. He survives many challenges before being adopted by a couple in Australia; 25 years later, he sets out to find his lost family.
Dove Review:
Based on a true story, Lion is an amazing piece of work and of storytelling that will touch the human emotions. Nominated for an Academy Award for Best Picture and Best Director (Garth Davis), the acting, story, and direction are all top-notch. An interesting aspect of the story is that a young boy, Saroo (played by Sunny Pawar as a boy and Dev Patel as an adult), is separated from his brother and then lost. He has images of his beautiful mother and brother in his head, as well as his baby sister, and of his home, but he is adopted by an Australian couple and, for a time, moves forward with his life. However, he cannot forget about his past life and cannot help wondering whatever happened to his real family.
An interesting part of the movie is that the ability to actually find his lost family occurs due to modern technology — and just when he needs it and yearns to find them. He also keeps his search for his family from his adopted family, not wishing to hurt them. Later, when they learn of it, his adopted mother Sue (Nicole Kidman) tells him she supports it. She is proud of Saroo and knows his real mother would be too.
This movie features various touching scenes, including those of people being kind to Saroo and trying to help him when he is lost. Due to the implied sex between a grown Saroo and a young woman, we are not awarding the film our Dove Seal. But the love of home, and family, and making the most of difficult situations are all themes found in this movie and can be commended. — www.dove.org
PLEASE SCROLL DOWN TO MAKE/VIEW COMMENTS
ADVERTISEMENTS:
---
COMMENTING GUIDELINES:
You are welcome to make comments that add value to the article above and to engage in thoughtful, constructive discussion with fellow readers. Comments that contain vulgar language will be removed. Hostile, demeaning, disrespectful, propagandistic comments may also be moved. This is a Christian website and if you wish to vent against Christian beliefs you have probably come to the wrong place and your comments may be removed. Ongoing debates and repetitiveness will not be tolerated.