My Own Keepsake Bible — Edited by Carolyn Larsen: Book review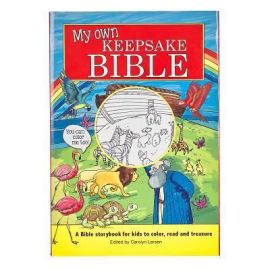 Book review by Val Viljoen
If you are looking out for a children's bible storybook that offers something a bit different, take a look at My Own Keepsake Bible.
There are 172 stories from the Old and New Testaments, with 95 illustrations to colour-in.
This means of course that kids can personalise the storybook and create a keepsake which they can treasure forever.
Even the cover and page edges can be coloured-in, although there is a colourful loose cover on the book.
Each illustration has a caption and scripture reference, while every story has a key scripture reference. The book has a bookmark ribbon for that special touch.
I consider the stories to be well written for easy understanding and the illustrations tasteful. All round, an excellent Christmas gift!
PLEASE SCROLL DOWN TO MAKE/VIEW COMMENTS
ADVERTISEMENTS:
---
COMMENTING GUIDELINES:
You are welcome to make comments that add value to the article above and to engage in thoughtful, constructive discussion with fellow readers. Comments that contain vulgar language will be removed. Hostile, demeaning, disrespectful, propagandistic comments may also be moved. This is a Christian website and if you wish to vent against Christian beliefs you have probably come to the wrong place and your comments may be removed. Ongoing debates and repetitiveness will not be tolerated.