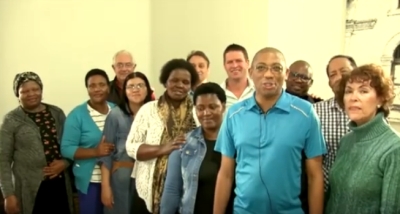 Crime dropped dramatically in Mbekweni township in the Western Cape winelands after a divine intervention prayer rally in December, prompting community members from nearby Paarl East to request a similar meeting in their area which is facing high levels of murder, rape and other violent crime.
From 4pm on Sunday May 26 the Winelands Cluster Police Board is hosting a community divine intervention against crime at the Huguenot Community Hall in Paarl East, where the entire community is invited to join in prayer to restore peace and order in the area.
A Paarl businessman who has been involved in the winelands prayer initiative since its inception said the team was very excited about the Paarl East event and was looking to God to bring the same breakthroughs that were experienced at Mbekweni, where peace was restored and many physical healings were experienced.
He said that praise and worship at the event will be lead by a great band whose members were mostly from Paarl East itself. Speakers at the event were Dr Des Sinclair, who played a central role in the Mbekweni rally, and local pastoral leader Dr Vernon Jacobs. Reverend Eben Mourries from the Department of Correctional Services who was the programme director at Mbekweni would also perform that role at the Paarl East rally.
See video about the upcoming Paarl East Prayer Meeting: