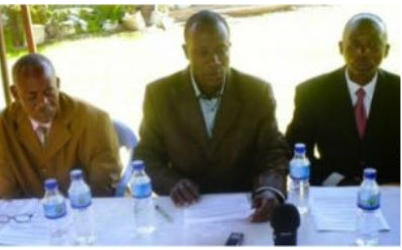 Originally published in World Watch Monitor
Unknown attackers killed a Christian man by machete and injured another in Bukoba in northwest Tanzania on Thursday, October 9, according to sources. This followed another recent incident on Zanzibar island in which a pastor and his wife were attacked in their home, after being threatened that they should leave the island.
In Bukoba, the two men, Dioniz Ng'wandu, 31, a secondary school teacher and a man known only as Temistores, 25, were at an early morning church prayer-meeting at the Busimbe Parish of the Pentecostal Assemblies of God, with their pastor Faustine Joseph and a fourth unnamed man.
About 30 minutes after Joseph and the fourth man left the prayer meeting, unknown attackers entered the church and killed Ng'wandu, and seriously injured Temistores in his left foot; he was admitted to the Kagera Regional Hospital.
Temistores said he can remember nothing apart from the masked attackers commanding him not to move, according to World Watch Monitor sources. Nothing in the church was stolen or destroyed during the attack. Local sources say the attackers had easy access to the church because it is still under construction and it has no windows or doors.
Joseph told sources that church members have been receiving threats from Muslim expatriates in Bukoba, who have vowed to decrease the number of Christians in the area. Bukoba is reported to be a Muslim-dominated town of about 100,000 situated on the shore of Lake Victoria bordering Kigoma, which also has a local reputation as a centre for Islamist extremism.
Ng'wandu was buried at his home in Kilimahewa, Mwana on Oct. 12. He leaves behind his wife, Faith, and two children, Michael, 4, and John, 2.
"The investigation is ongoing," said Kagera Chief of Police, George Mayunga according to Agence Presse Africaine (APA). "We've already arrested a suspect."
Non-profit The Media Project, which works globally with local journalists, reported that Ng'wandu was murdered at the altar of the church and that thirty-five area pastors, led by Crodward Edwar, have asked the government to investigate the murder.
"Attacks against Christians are increasing in Tanzania despite the efforts of the government to control them," reported The Media Project. "Some religious leaders and lay Christians have been killed, while others have been attacked by extremist Muslims wielding acid. Some of the perpetrators have been arrested and charged, yet their cases continue in courts."
The non-profit reports that no serious media coverage had been given to this latest attack in Tanzania – due to censorship, it says.
Almost exactly a year ago, unknown men killed a 35 year old youth leader Elias Lunyamila Meshack, in similar manner to Ng'wandu, at an overnight church service. The assailants killed Meshack with a machete and injured two others. Again the leader of the church involved said that there was no evidence of robbery because the attackers didn't steal anything
Meshack was killed in Pasiansi, Mwanza province on the shores of Lake Victoria.