[notice]Pieter Pohl, founder of Innovation Films and marketing manager of CMD Entertainment Africa, sheds some light on the latest movies.[/notice]
THE SHACK – IN CINEMA 26 APRIL!
THE SHACK – Based on the New York Times best-selling novel, The Shack takes us on a father's uplifting spiritual journey. For more info visit www.cmd.com
FAITH AFFIRMING MOVIES NOW AT CINEMAS!
THE SHACK
MOVIE TRAILER & MORE INFO: https://www.youtube.com/watch?v=CL0yUbSS5Eg
10-12 PG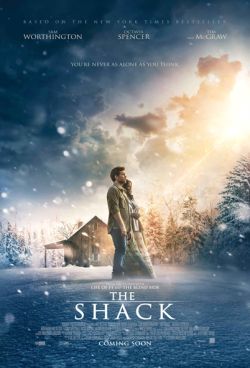 Synopsis:
After the abduction and assumed death of Mackenzie Allen Phillip's youngest daughter, Missy, Mack receives a letter and has the suspicion it's from God asking him to return to The Shack where Missy may have been murdered. After contemplating it, he leaves his home to go to The Shack for the first time since Missy's accident and encounters what will change his life forever.
DOVE Review:
"The Shack" is a profound and creative way of revealing the unconditional love of God. Mackenzie, "Mack" (Sam Worthington), has an encounter with the Holy Trinity, at a shack following the death of his beloved daughter. The movie is heart wrenching at times, but it reveals the compassion and mercy of God even during great grief and sorrow. The themes are: forgiveness, compassion, and closure. Mack learns it takes forgiveness, including him forgiving his own abusive father, in order to move on. Mack receives a letter in the mailbox despite there being no tracks in the recently fallen snow. The letter invites him to the shack to meet with the sender, and it is signed "Papa." And Papa turns out to be a pretty important character!
God is represented in various ways including as a woman (Octavia Spencer). The dialog and communication in the film is powerful. There is some brief violence, but it is not gratuitous. This film is powerful and gripping and has the potential to change lives. We are delighted to award it our Faith-Friendly Seal for ages 12-plus. "The Shack" will move audiences in a powerful way! – www.dove.org
SUNDAY BLOCKBUSTER
(Sun 23 April '17: MNET 101 20:05)
THE MAGNIFICENT SEVEN
MOVIE TRAILER: https://www.youtube.com/watch?v=q-RBA0xoaWU
PG13VL – NOT RECOMMENDED FOR FAMILIES
Synopsis:
Director Antoine Fuqua brings his modern vision to a classic story in "The Magnificent Seven." With the town of Rose Creek under the deadly control of industrialist Bartholomew Bogue, the desperate townspeople employ protection from seven outlaws, bounty hunters, gamblers and hired guns. As they prepare the town for the violent showdown that they know is coming, these seven mercenaries find themselves fighting for more than money.
DOVE Review:
"The Magnificent Seven (2016)" is a paradox of sorts. It is a very well-made film, a western, featuring well-known actors who chew up the scenery. The actors include Denzel Washington as Sam Chisolm; Chris Pratt as Joshua Faraday; Vincent D'Onofrio as Jack Horne, and as the villain (and he makes a good one)–Peter Sarsgaard, playing Bartholomew Bogue. However, the violence is very strong, as is the use of language.
The film includes a fair amount of humor, and most of it works. In an early scene, for instance, two bad guys hold guns on Faraday, ready to kill him, when he distracts them with a card trick. "I like magic," says one of the brothers, who doesn't appear to be the sharpest pencil in the can. The audience chuckled at this joke. Sure enough, Faraday turns the tables on them and takes them out. In yet another scene, Jack Horne appears in the film for the first time, and he is a brute of a man. After he walks off, a comment is made: "I believe that bear was wearing people's clothes!"
The story opens as Bogue disrupts a meeting in church, in Rose Creek, long enough to make an outrageous offer of $20 for each person's share of land (he wants to take over the mining business and the town), and he proceeds to kill a lot of people as a demonstration of his strength and power. Then he nearly burns down the church. He also makes the mistake of killing one woman's husband in cold blood. The woman, Emma Cullen (Haley Bennett) seeks vengeance and rounds up Sam Chisholm, who then enlists the help of the others to defeat Bogue and take back their town. They have a lot of adventures along the way, with shoot 'em ups and killings.
Due to the violence, strong language, and some strong thematic content in the sex category, we are unable to approve this film for family viewing and must deny it the Dove "Family-Approved" Seal. -www.dove.org