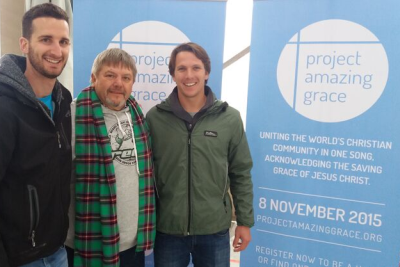 As reports of ISIS terror and other bad news brought fear into the hearts of Christians, Ryno Turketti was led by God to unite people around he world in worshiping God for a time at exactly the same time and the same date.
This was a year ago, in October 2014 — the beginning of Project Amazing Grace which will see Christians around the world joining to sing Amazing Grace together at 1500 GMT (5pm in South Africa) on Sunday, November 8.
'Not our battle, but the Lord's'
Ryno, who is Worship Pastor at Melkbosstrand Baptist Church, says God showed him that "this is not our battle to fight but God's" and "we are meant to worship Him just as happened in 2 Chronicles 20 when the guys pulled together and worshiped God and He went before them " ["…Jehoshaphat appointed men to sing to the Lord and to praise him for the splendor of His holiness as they went out at the head of the army. — verse 21].
"I got a couple of guys together and we shared the vision and started praying about it. God laid Project Amazing
Grace on our heart just to use as a vehicle for people to worship Him together. For everybody knows the song, it's a universal song, it's in different languages."
He says there are different participation options. Church leaders can register as hosts and people can get together to worship at their churches. People who are not close to churches can download an app or connect online to join others singing Amazing Grace in a live streaming session.,
Amazing response
"God has been going further than we ever expected. We have realised it's His project. He's the one in control. At first our goal was just to have one host on every continent just to connect the continents. Cape Town already has about 20 churches registered as hosts. We have churches in New Zealand who are going to sing at 4am — it will be the 9th of November for him. There are churches in Australia, Geneva, the UK and America. Pipey [Piperjames of the MMC WC] is going to be on Table Mountain with his bagpipes and there will be guys going up Lion's Head to just worship God."
He says Open Doors SA were excited when they learned about Project Amazing Grace, saying it will be great for churches who are facing persecution that there are other people worshiping together with them.
"At Onrus all the churches plan to come together an hour before to worship together and then to sing Amazing Grace with us."
"It's really been great just to see how God has been moving this forward," says Waldo van den Berg who handles the project's email communications and administration.
Polish connection
Ryno's father, Stan Turketti, who together with his two sons visited his family in Poland for the first time just over a week ago, says:  "When we [the family] gathered Ryno was playing Amazing Grace. Some of them don't know English but they were singing Amazing Grace. It really touched my heart."
Stan, who is a member of the Iron Men Ministry at his church says he is "mostly involved in the project as a prayer warrior, standing in the gap for the guys and sitting in on their meetings."
More information about the project is available on the website http://www.projectamazinggrace.org.