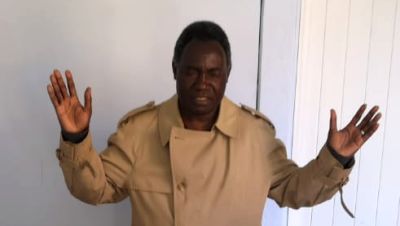 Missionary intercessor Paul Mbongelo says that during a recent time of 50 days of prayer and fasting God gave him a strategy for securing His intervention in some of the big problems currently facing South Africa.
Mbongelo, a Democratic Republic of Congo national, who lives in Bloemfontein, released his word from the Lord to a small group of influential Christians in Port Elizabeth on Friday, saying he believed God led him to share in PE first before taking it to other centres.
Before sharing his word he reminded the group of a prophetic assignment he undertook last year in which he released a word about repentance that the Lord gave him — also during 50 days of prayer and fasting — in all nine provinces, and initiated a strategic prayer event at the Union Buildings in Pretoria.
He said he undertook last year's prayer and fasting venture after coming under conviction at two events where the need for prayer for the nation was highlighted. The events were the Bloemfontein It's Time national day of prayer, and the final Karoo Mighty Men Conference, held a week after the Bloemfontein event.
Mbongelo's message last year — released at a time when state capture and corruption at the top had a firm grip on the nation — was that God held the Church responsible for the rise in wickedness in the nation and wanted to hear a sincere cry of repentance and a plea to Him to withhold judgment and give the Church one more chance to try again.
He said that after his word was well-received by leaders and a strategic time of prayer on October 1, God intervened and corrupt leaders were exposed and removed and even a very real threat of mutiny by military factions loyal to former president Jacob Zuma was averted.
Reading from the introduction of Michael Cassidy's book A Witness Forever he recalled how prayer and the hand of God had been pivotal in South Africa's peaceful transition to democracy in 1994.
Getting to his recent prayer and fasting retreat experience, he highlighted Psalm 103:20 and 1 Chronicles 12:32, which respectively spoke of angels listening to God for instructions that needed to be implemented, and to the Sons of Issachar who understood the times and knew what Israel should do.
He said he believed God was currently speaking to many people about the nation — and that the word He had given him was a simple instruction, which if obeyed, and implemented nationally, would result in God's miraculous intervention in some of the problems in the nation, such as the land issue or the risk of civil war.
The prophetic word that the Lord gave him for this season is "An old-fashioned tent meeting is able to save the nation", he said.
He explained that God was asking His people to implement the word by planting tents in strategic places around the nation — at least in every province.
Holding strategic old-fashioned tent meetings would be more effective than "atomic bombs" in dealing with problems that seemed intractable, he said.
He likened the tents to the biblical tent of meeting in the wilderness which was where God's presence manifested. The tents that God was speaking about now would be a platform from which the Spirit of God would begin to work in a supernatural way, he said.
He referred to Isaiah 11: 1-9, which he said in the current South African context, pointed prophetically to the wisdom, understanding and justice of the Lord that would impact people and situations, and how God's people would have influence as the Holy Spirit moved.
Referencing 2 Chronicles 20: 14 – 17, he emphasised a call to do what God asked and see Him take over. "Do not be afraid; do not be discouraged. Go out and face them tomorrow and the Lord will be with you." — v17b