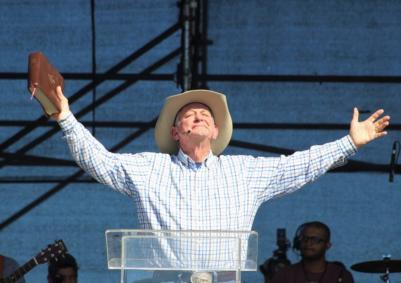 Gateway News interviews Angus Buchan three days after the 'It's Time' national day of prayer in Bloemfontein on Saturday April 22
GWN: Six weeks ago you heard God say 'It's Time' and "a million [people]". And you set in motion a plan for the 'It's Time' event last Saturday. What were the highs and lows for you and your team over those six weeks?
ANGUS BUCHAN: The highs were obviously the way in which everything came together. So supernaturally, unbelievable — from the farm being chosen, from the venue — Bloemfontein — in the middle of the country, from the doors opening, from the team being put together — the most amazing team in Bloemfontein and at Shalom  working together as one. Absolute miracles — small teams but very powerful. The weather pattern, the response from everybody — those were definitely the highs.
The lows? It was so big that if God didn't do it, it was doomed to fail. And we have a saying at Shalom: "You must attempt something so big that if it's not of God it's doomed to fail." And the question is "Why?" And the answer is because if it works then nobody can touch God's glory. In other words it was a supernatural challenge, and it needed a supernatural God — Jesus — to bring it to completion. So often I felt so unworthy, so insignificant, so small and weak, that the challenge was so big. I would wake up many times in the middle of the night thinking about the financial implications, bearing in mind we were taking no collection, selling no tickets. And then of course to rally a million people straight after the Easter holidays. It's never been done before in the history of this country. We have staged some big meetings before but never, ever, vaguely the size of this event. So the lows were, I really know what Gethsemane feels like now.
GWN: Well April 22 came and is now history. What was your day like?
ANGUS BUCHAN: Exceptional! Having to pinch myself regularly to believe that I'm alive — not in heaven already. Incredible!

GWN: What is your message today and going forward to the million South Africans who kneeled together on Wilde Als farm to dedicate their lives to the Lord Jesus Christ?
 ANGUS BUCHAN: The message is simple. We need to continue to pray for our nation. We made that very clear on the day. It's not over. It's only the beginning. We need to be known in South Africa as a praying nation.
GWN: Was the day a manifestation of revival?
ANGUS BUCHAN: The answer is: definitely YES!