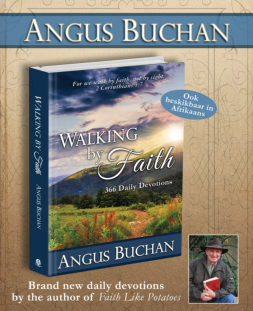 Book Review by Andre Viljoen
WALKING BY FAITH: 366 DAILY DEVOTIONS  by ANGUS BUCHAN
"Will you walk by faith and not by sight?" Angus Buchan asks readers in the January 1 entry in his new book of daily devotions for every day of the year.
Echoing the words of Scripture (For we walk by faith, not by sight — 2 Corinthians 5:7) Buchan's opening question is one that is kept alive throughout the book which is aptly titled "Walking by Faith — 366 Daily Devotions".
The book invites readers to embark on a rather unique year-long journey of majoring on how to walk by faith and not by sight.
In the foreward, Buchan says: "Quite simply if we do not walk by faith, we will not finish the course. I have tried many times to do things my way and it has never worked for me. There is only one way and that is God's way".
He dedicates the book to all new believers in Jesus Christ. Indeed I would say that this book will edify both new believers and seasoned believers. It is written in Buchan's trademark conversational style that relates to the day to day challenges of ordinary people in their marriages, relationships, work and spiritual journeys. It comes across as authentic, drawing on Buchan's insights from God's Word — especially lessons from the lives of Old and New Testament heroes of faith — and from the lives of men of God through the ages. Buchan also shares some memorable lessons from his own life experience as a farmer, international evangelist and family man. Each devotion is only one-page long, assuring a good chance that starting this book on January 1 will be a New Year's resolution that most readers are capable of seeing through. Each month of the book focuses on a different faith theme. Months two to 12 explore lessons from the lives of Biblical figures beginning with Abraham, Noah, Joseph, Moses….and concluding with Jesus' disciples, Paul and Jesus himself. While walking by faith is the central theme of the book the journey embraces many related themes such as the person of Jesus Christ, obedience, perseverance, patience, grace and many more.
Readers who complete the book — especially those who heed Buchan's repeated call to be intentional about spending significant time being still in the presence of Jesus — will be better equipped to "walk by faith and not by sight" and to "finish strong".
The recommended retail price of "Walking by Faith" is R169.95 and the hardcover book is available at major book sellers country wide.