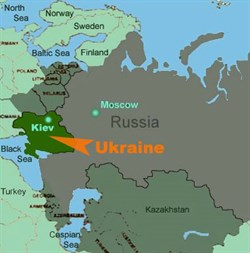 Originally published in One News Now
An organisation that acts as a bridge between the Western church and believers who are suffering for their faith is exploring ways to help Ukranian Christians and refugees affected by war.
Russia and UkraineCorey Bailey with International Christian Concern says the world should be taking note of the plight of Christians and refugees in Ukraine and not allow it to be overshadowed by the religious persecution currently occurring in Iraq.
"Just this week, four … volunteers with the Far East Broadcasting Company in Ukraine, which broadcasts the gospel across that country, were pulled from their building," she shares. "And it was discovered that they were Christians, that they were believers – and they were actually beaten to death for their Christian faith when it was found out that they were evangelical Christians."
Bailey says pro-Russian separatists are opposed to what they believe are immoral influences from the West and instead want fundamental Orthodox principles in Ukraine.
"They are suspicious of foreign or Western influences and they see evangelical Christians as a threat to the Orthodox faith," he explains. "That's one of the reasons why we've been seeing in the past few months evangelical Christians, Protestants, etcetera being targeted for violence and persecution."
While International Christian Concern finds ways to help these people, Bailey says ICC is reaching out to the U.S. government. "Pray, pray, pray," she urges. "That is something we can all do. It should not be underrated. It's so important."