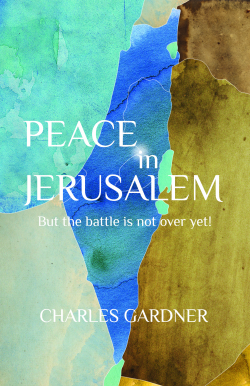 Amidst the ongoing turmoil of the Middle East, where terrorism and civil war are erupting on every side, a remarkable peace process is taking place.
Author and journalist Charles Gardner has witnessed Arab and Jew embracing one another in the name of the One who has bought such reconciliation with the blood he shed on a Roman cross outside Jerusalem 2 000 years ago.
And he concludes – in Peace in Jerusalem published by Olive Press Books* – that it is only through this 'Prince of Peace' that the seemingly intractable Israeli-Palestinian conflict can be resolved.
This book, written with the pace and skill you would expect from a seasoned professional with over 40 years of experience in journalism, tells some amazing stories of modern-day Muslims having supernatural encounters with the risen Jesus – yes, He's still alive!
But the former newspaper editor and one-time London correspondent for the South African Press Association also tackles major issues surrounding the Jewish state, both historically and currently, which he believes have been seriously blurred by a liberal media bowing to political correctness.
Challenges Church
He also challenges the Church – largely succumbing to a worldly rather than Biblical view of Israel – to return to its Hebraic roots.
The Cape Town-born 65-year-old author grew up in South Africa before moving to the UK, where he was introduced to British society by his half-Jewish grandmother.
He soon raised her ire by becoming a committed Christian and attended All Souls Church in central London before moving north to Yorkshire where he worked at senior editorial level for various newspapers over the next 30-plus years.
Now retired, he continues to write on a freelance basis and also volunteers in an editorial capacity for the Church's Ministry among Jewish people, an Anglican society founded in 1809.
Peace in Jerusalem is a sequel to his first book on the subject, Israel the Chosen and ise available from Amazon and other online stores.