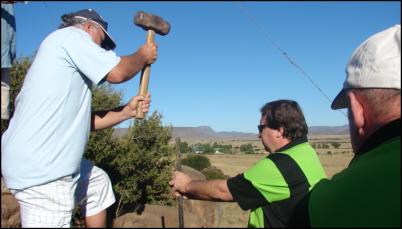 The Karoo Mighty Men Conference committee has sounded an urgent call for prayer warriors to pray for 40 days from Monday (March 18) until the start of the KMMC on Friday, April 26.
"We need a mighty army of people praying and interceding that God will do an awesome work in our midst," says prayer coordinator Dave Turner.
Last year there was a seven day round-the-clock prayer countdown before the KMMC during which intercessors took turns praying on the KMMC venue on Renosterfontein farm near Middelburg.
This year the prayer bar is being raised and intercessors are being asked to take turns praying on the farm from sunrise to sunset during the 40 day countdown.
"We could host a Mighty Men Conference with many thousands attending, but if there was not a transformation in the lives of those attending, we would not have achieved much for the Kingdom of God.  This is where prayer comes in, because we know that the fervent faith-filled prayers of righteous men and woman are powerful and effective (James 5) to transform lives, heal the sick, set the captive free, and bring people into right relationship with God and man," says Turner.
He has called on intercessors to join the team by clicking on this link on the KMMC website or by calling him at 079 879 9148.
People who would like to participate in the 40 days of prayer but who will not be able to travel to Middelburg during that time should call him or email him at devlei@vodamail.co.za in order to make alternative arrangements.
He also appealed to people in other towns who belong to weekly prayer groups to contact him so that their groups can receive KMMC prayer guidelines and updates.
Men AND women who are interested in praying at the KMMC venue before and during the meetings from April 26 to 28, should also sign up with him.
A special prayer forum has been created on the KMMC website so that enlisted members of the prayer army will be able to post and read prayer requests, scriptures, visions and words.
More information about the intercession needs and strategy are available on the KMMC website.