It is spreading around SA as God said it would!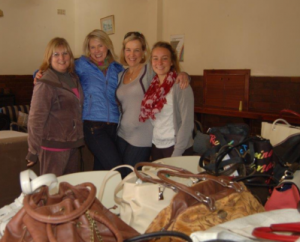 They call themselves the Bag Angels. They are busy Joburg working women. And on Saturdays they love to take handbags filled with Bibles and "essential" goodies to women in shelters.
In just six months since starting the Bags of Hope ministry in Johannesburg the Bag Angels have handed out more than 800 handbags to women in need, says nursery school owner Hetty Johnson, who introduced the outreach to her friends after hearing about it while attending a birthday party in Victoria Bay in February 2014. The birthday girl at the party, Janelle Miller, gave each of her guests a sheet of paper listing items to be placed in a bag which would be given to women through the Bags of Hope ministry in the nearby town of George. Janelle, in turn, had been introduced to the ministry at a Christian women's conference in Port Elizabeth in May 2013 where it was launched shortly after it was birthed by God in the hearts of a group of women that includes her sister-in-law, Megan Beswick.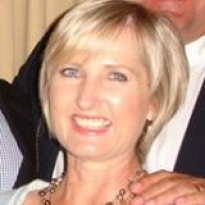 "Our instruction [from God] was to give God's Highest to women at their lowest…it was to be an extravagant Bag of Blessing…we were to translate to women that they are special, God has fearfully and wonderfully made them and that there is HOPE…Psalm 139: 1-18," says Megan. She says God gave the vision for the ministry to her city group of "eight very ordinary women" while they were praying and preparing for the 2013 "Dare" women's conference hosted by Father's House Family Church.
A "gently worn, smart bag"
She says the women were told that the bag should be "a gently worn, smart bag from our cupboards, filled with 10 essential items for women who had fallen on difficult times". The number 1 item had to be the Word of God — the Bible which is "the Hope we have in Jesus" that brings Hope to the hopeless. The other items that the women came up with were: 2.Lip gloss; 3. Brush or comb; 4. Wet wipes; 5. Sani pads; 6. Hand cream; 7. Tooth brush; and 8. Tooth paste; 9. Note pad and pen, and 10.Treat.
"God told us Bags of Hope would go national," says Megan and indeed it has been spreading by word of mouth.
Megan says that in PE Bags of Hope works closely with Hearts for Alternatives, a pregnancy crisis centre.
"We have recently added Bags of Hope for toddlers…what an incredible blessing this is proving to be for the toddler and the mum!" she says.
In George, convenors Janelle and Angelé work with Options Care Centre, a pregnancy crisis centre.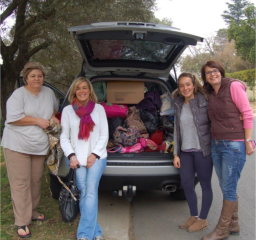 Hetty says that since the Bag Angels took up the cause in Joburg she has become aware of the ministry taking off in other centres.
"A young lady in Cape Town collected from her friends and has dropped off at shelters there; someone in East London wanted details and will be following our example and recently my minister [Ridgeway Methodist Church] got his old home church somewhere in Durban motivated to follow suit," she says. She has even been contacted by a woman in Florida, USA, who wants to start the ministry there.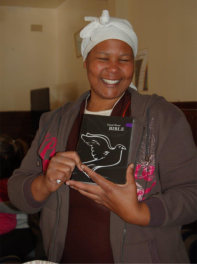 Faith building
"Our faith has grown as we see God's hand in this project and we are the mere worker ants. We are constantly gobsmacked by the way He moves and the people he brings into our lives. The Bag Angels are from several local churches and all of us have a love for the Lord. Our youngest Angel has just turned 17," says Hetty.
Every Saturday the women fill a car with bags and visit a shelter. They have been to shelters in the inner city and the suburbs. They have met desitute, abandoned and abused women who are subdued and suspicious at first and then become expectant and delighted as they realise the purpose of the visit. They have seen Bibles being received with the greatest joy.
"We find this [Saturday visits to shelters] the most rewarding thing we have done! If a Bag Angel is away she is usually devastated and would rather we wait for her to return than give out bags without her.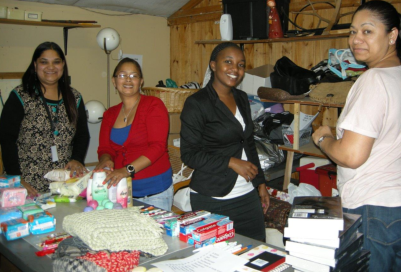 Packing parties
"We now have a regular source of Bibles and a source of shelters and as we make contacts with the directors and managers of these shelters they give us more contacts. My back storeroom has been turned into a warehouse for Bags of Hope and once or twice a week we have packing parties. As we give out bags and empty our storeroom, so I get a call that someone has more bags for us. It has been phenomenal and beyond anything I can comprehend."
Hetty says the Bag Angels started with her friend and neighbour, Debbie, who were soon joined by Karen, Lee, Ann-Margret and Ash. More recently they were joined by Niki, Aimee and Octavia.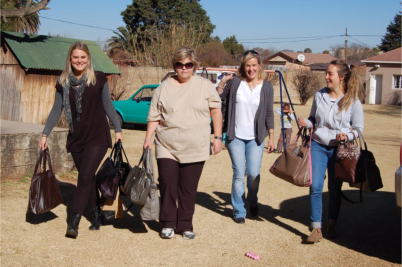 "I believe that each lady has played an important part and without one of us there would be no Bags of Hope. All the Bag angels are busy working girls with careers and families, living the 'hectic' Joburg life, but each of us makes time for Bags of Hope," she says.
The list of items that the Bag Angels pack into their "gently worn handbags" varies slightly from the original list that was drawn up in PE but the vision of brining hope and dignity to women in need remains the same.
The revised list of items is 1. A Bible, 2. Notepad and pen; 3. Toothbrush and toothpaste; 4. Hand cream or body lotion; 5. Roll on deoderent; 6. Small pack of tissues; 7. Lip ice or gloss or lipstick; 8. Wet wipes; 9. Sanitary towels; 10. A treat to eat or keep; 11. A pretty scarf (can also be gently worn or new); 12. You could write a letter of hope and encouragement if you felt moved to do so.
Miracle continues
"The miracle just continues with the women of Joburg (Joyburg) being blessed by giving to us, we in turn are being blessed by being the conduit, and the women we reach are blessed with a gift of hope, dignity and love," says Hetty.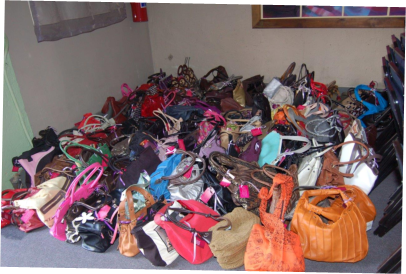 Contact details for some of the Bags of Hope groups in SA are: