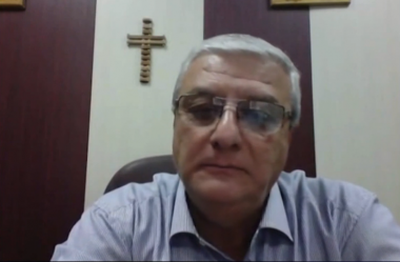 Originally published in Christian Today
The pastor who leads Iraq's only Christian radio station survived a recent bomb attack in Baghdad, emerging from the dust and debris of the explosion without a scratch—an incident described as a "miracle" by the pastor's church.
Moments after Pastor Maher Fouad of the New Testament Baptist Church of Baghdad went to a garage to drive the church bus to an auto repair shop, a bomb went off, killing the owner of the garage and the driver of a car trailing the bus, according to a report from the Gospel Herald. 
Maher is the leader of Iraq's only Christian radio station that reaches up to eight million people,
The church said the miracle could only be the handiwork of God who spared the lives of Maher and a deacon who was with him so that they could continue spreading the faith in the war-torn country. The Christian radio station led by Maher reaches up to eight million people in the region.
The church described the incident in a statement: "Our Baghdad church bus broke down and needed a spare part. Pastor Maher and a deacon from the church went to a garage to fix it. The mechanic told Maher that he doesn't have the part and directed him to another garage. 
"Pastor Maher drove the bus out of the garage into the street. At that moment a bomb went off killing the owner of the garage. The car that was following our bus was demolished and the driver was killed. All the windows of our church bus were completely shattered from the pressure of the explosion. Dust and debris (were) everywhere and covered Pastor Maher and the deacon. Yet he and the deacon were not touched! They were completely spared and not harmed."
More than 125,000 Christians in Iraq have reportedly been displaced from their homes over the past 10 months because of the threat posed by Islamic State militants.
But Maher said he is determined to stay in Baghdad despite the risks involved, adding that he is committed to spread God's Word for as long as he can.
"When we started this project, it was a pioneering project," Maher said of the Christian radio station 102.9 FM, which he founded a decade ago. "No one ever applied for a radio station in the history of Iraq, especially a Christian radio station," he told the Christian Broadcasting Network on Saturday,
"Violence was a major problem in Baghdad, with the sounds of explosions and car bombs. And out of all these radio stations that broadcast violence and negative news, our radio station [emerged] broadcasting the Gospel and the Good News of Jesus Christ," he added.
Maher hopes that more Iraqis would come to know the true and living God through his radio station.
He said he and his congregation are continuously praying for their Muslim brethren even with the ISIS threatening them.
"We rejoice because many, many people are listening and receiving the message and are responding to the message of the Gospel," Maher said. "The Lord protected us, and I believe the Lord will protect us also in the coming days."