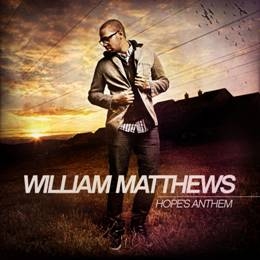 Bethel Music's singer/songwriter William Matthews releases his debut, full-length recording, Hope's Anthem on September 20 on Kingsway, says Integrity Media in a news release.
Most recently featured as a lead vocalist on Bethel Live's acclaimed recording Be Lifted High, and having been a highlighted background vocalist for Brian and Jenn Johnson, Kim Walker, Chris Quilala, Jake Hamilton, Jeremy Riddle, Suzy Wills Yaraei, Matt Gilman, and many others, Matthews steps out on his own with Hope's Anthem, a declaration of God's hope and redemptive love for humanity.
The album draws from Matthews' musical background, and is a joyful expression of worship that blends R&B, soul, pop and even a little country, all written by Matthews and the Bethel Music team.
"William's music is refreshing and joyful. It is filled with grace, wonderfully revealing the pleasure of the Lord," says Bill Johnson, Senior Leader of Bethel Church and author of When Heaven Invades Earth.
Shawn Bolz, Director/Pastor of Expression58, author of Keys to Heaven's Economy, says that "William Matthews is my pick for favourite new sound of 2011. He is breaking out of the traditional music and worship scene we are used to…"
"His songs evoke high praises and powerful, unified corporate worship!" adds Suzy Wills Yaraei,
MorningStar Worship Leader, founder of Holy Spirit Adventures, while Bob Hartley, author of Hope Journey, founder of Deeper Waters Ministry in Kansas City, MO, exclaims, "In this day, God is releasing a fresh revelation of Hope across the nations of the earth. William has heard the sound and has written a song called 'Hope's Anthem.' Not only is this one of my favorite songs, but I believe it is one of the most important songs of this generation!"
"I can still remember the very first time I heard him sing at the International House of Prayer," recalls Julie Meyer, Worship Leader at The International House Of Prayer in Kansas City. "I literally had to look around the stage to find out who was singing. William sings with passion. He sings with skill and his songs literally break open faith in a room. He sings the 'not yet' into the 'now.' William is a worshiper that lays hold of the kingdom of God and brings the whole room with him."
Born and raised in the heart of Detroit, MI, Matthews' mother directed the church choir and he was constantly surrounded by soul singers and talented vocalists. When he was twelve, his parents accepted a ministry opportunity and moved to Raleigh, NC to pastor a church. During those years, he started writing songs and, in 2007, he moved to be a part of the International House of Prayer in Kansas City, MO, leading worship alongside Justin Rizzo, Misty Edwards, Cory Asbury, Julie Meyer, Matt Gilman, and others. During this time, he was part of worship teams leading for The Call and wrote several songs on various albums and compilations for Forerunner Music, a division of the International House of Prayer, before meeting Brian and Jenn Johnson and joining the leadership team at Bethel Church in Redding, CA, where he currently resides.