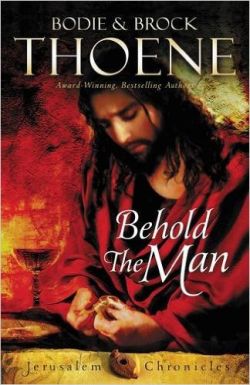 Book review by Wendy Duminy
Behold the Man is the third book in the Jerusalem Chronicles and tells the account of events leading up to the crucifixion of Jesus through the perspectives of Pilate, Claudia (Pilate's wife) and Centurion Marcus Longinus. The question of "who is this man called Jesus" is carried through the story as Pilate, Claudia, and Marcus adjust to the politics and culture of Jerusalem which differ greatly to that of Rome.
As the individual and intertwining stories of Pilate, Claudia, and Marcus unfold, they find themselves at a crossroads where they have to decide for themselves who they believe Jesus is. Amidst this decision, Claudia and Marcus struggle with their lives not being their own. Claudia, as a woman, is at the mercy of her husband while Marcus, as a soldier, has to obey orders and make sure he is on the winning side of political in-fighting. Pilate, on the other hand, has to try and survive the political minefield that governing Judea has become.
These award-winning bestselling authors have crafted a story that is not only riveting but is also insightful as it weaves together the different opinions of who Jesus is with the backdrop of political intrigue, religious posturing, and a mother's love. Behold the Man is a must-read for anybody who enjoys the retelling of biblical accounts from a different perspective.