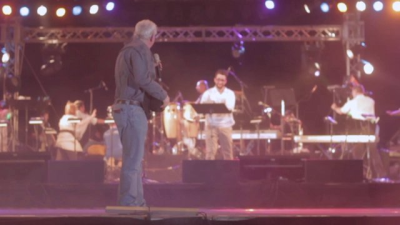 5 000 Christians arriving in Israel for Feast of Tabernacles
For the third consecutive year Angus Buchan is a special guest speaker at the International Christian Embassy's (ICEJ) annual Feast of Tabernacles event in Israel.
Last year Buchan brought the opening message at Ein Gedi on the Dead Sea where a mighty wind came up during his sermon after he read from Acts 2 and asked God to do what he did at Pentecost when the Church was established in Jerusalem. This year he was asked to speak at an event in Jerusalem. The Ein Gedi opening service will be streamed live from 7pm (SA time), tomorrow (Friday, September 20).
More that 5 000 Christian pilgrims from around 100 nations will take part in the ICEJ annual Feast of Tabernacles this week, reports Arutz Sheva.
The festival which will generate some $16 million (R155m) in revenues is the largest annual tourist event in Israel.
The ICEJwas founded during the first Christian celebration of the Feast of Tabernacles in September 1980. It is the largest pro Israel Christian organisation in the world. With its headquarters in Jerusalem it also has branch offices and representatives in some 70 countries, with a reach into 55 more.
The Oasis Hotel in Ein Gedi will host the outdoor opening of the festival tomorrow night, with the rest of the festival comprising seminars and celebratory gatherings taking place at Jerusalem's International Convention Center, the largest venue in the capital. The theme of this year's festival will be 'Harvest', and will include a parade of nations scheduled for Saturday night.
ICEJ Executive Director Dr. Jürgen Bühler said that despite recent tensions surrounding Syria, the pilgrims had not cancelled their flights.
"We are thrilled that thousands of Christians from all over the world will be arriving in Jerusalem this week to take part in our annual Feast gathering, despite the recent tensions in the region over the Syrian conflict." He added: "The visit was "a timely message of solidarity with the people of Israel."
According to David Parsons, the ICEJ media director, there have been no cancellations to this year's event.
Many key Christian leaders from around the world will be speaking during the festival, as well as several high ranking Israeli officials. 
The ICEJ is a stalwart supporter of Israel, with an active media operation opposing the delegitimisation of Israel within other Christian church movements and the wider world.
A statement on the ICEJ website said its primary mandate was "to serve as a 'ministry of comfort' to Israel and the Jewish People worldwide" against a backdrop of the "tragic history of Christian anti-Semitism."