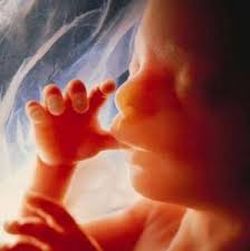 Sunday February 1, 2015 is the 18th anniversary of the legalisation of abortion in South Africa and pro-life organisations have called on Christians to observe the day with prayer and repentance for "the national sin of abortion".
Since the passing of the controversial Choice on Termination of Pregnancy Act on February 1,1997, against the will of most South Africans, 1.2 million unborn children have been killed, legally, through abortion, says Africa Christian Action (ACA).
ACA will be holding a prayer vigil outside the gates of Parliament, starting at 13:00. The vigil will be preceded by a March for Life to Parliament, starting in Keizersgracht Street at 12:30. People are invited to join the event on Facebook here.
Also in Cape Holy Mass will be celebrated at the Archdiocese of Cape Town's Chapel (12 Bouquet Street, Cape Town, behind St Mary's Cathedral)
on Monday, February 2 at 13:10 to mark the legalisation of abortion and to pray for a change of heart on the part of all who disregard the rights of unborn children. More information is available at 021-461 1417 or info@cplo.org.za.
In Bloemfontein, outspoken pro-life activist Dr Faan Oosthuizen compares Christians today who fail "to stand up against the legalised murder of the unborn" to "those generations in the past who failed and neglected to stand up against the Holocaust, Rwandan genocide, martyring of Christians, slavery, apartheid and the crucifixion of Jesus Christ".
"There is no excuse for not regularly spending some time, effort or funds against this worst of all abominations," he says.
He invites Christians to participate in pro-life protests which are held in Bloemfontein throughout the year from Monday to Friday at the National District Hospital from 6:30 to 11:00 and from Monday to Saturday at Mary Stopes Clinic, Hugenoot Street from 8:00 to 11:00 — or at any other times that they prefer. More information can be obtained from him at 083 265 9395 or from Tommie at 084 829 8379.