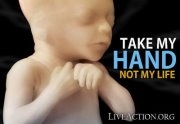 Pro-life groups in South Africa have urged Christians in the country to observe Sanctity Life Sunday, on Sunday, January 27 and the National Day or Repentance on Friday, February 1.
Both dates are linked to the 16th anniversary of the legalisation of abortion on demand in SA on February 1, 1987.  Since that date more than a million babies have been killed legally by abortion in the country.
Africa Christian Action has called on churches to observe a solemn and serious time of repentance and prayer for the national sin of abortion on Sunday. ACA invites churches to obtain more information and resources for use on Sunday on its resources page.
On Friday, February 1, the Catholic Parliamentary Liaison Office will be hosting a Holy Mass at St Mary's Cathedral, at 13:10  to mark the legalisation on February 1, 1997, and to pray for a change of heart on the part of all who disregard the rights of unborn children. The Mass is open to all and more information is available at 021-461 1417 or info@cplo.org.za.
Other events scheduled to mark the National Day of Repentance are:
Cape Town: Friday, February 1, 12:30.  March to Parliament, starts from Keizersgracht St, below CPUT (previously Cape Tech). 12:50: Prayer Rally and placard protest outside gates of Parliament. Contact: Africa Christian Action, 021-6894481 or info@christianaction.org.za.
East London: Saturday February 2, 11:00am – 13:00pm. Meet at Corner of Oxford St, opposite Downtown Christian Centre (just around the corner from Marie Stopes Abortuary) Contact Frans 082 774 6649 or Judy 043 726 9900, jvan@iafrica.com.
Hammanskraal (near Pretoria): Saturday, February 2, 09:00 – 12:00. On the R101 between Harry Gwala Road and the R734. Contact: Greg Pereira: 083 359 5093 or William Dicks: 083 556 7600.
Durban: Saturday, February 10,  2013, 13:0. Pro-life march together with Verulam Youth Forum, Phoenix, North of Durban. March starts at Phoenix Centre Park and ends at Rydalvale grounds, Unit 9 Phoenix,. Contact: Christians for Truth – 032 481 5512 or Pastor Aaron Munsamy: 083 976 1847.