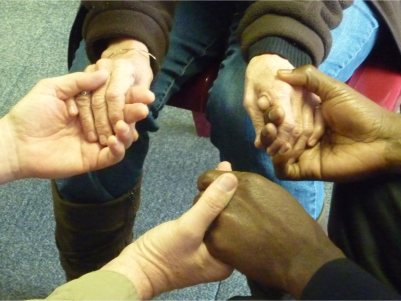 One hundred and twenty church leaders from different denominations who gathered at the Jericho Walls International Prayer Network (JWIPN) summit in Cape Town yesterday (Wednesday, June 11, 2014) agreed that all churches in every community from Cape Town to Nelson Mandela Bay (NMB) must be invited to participate in a 24/7 prayer campaign for revival.
The 'Southern Gate – Prayer Call for Revival' will take place from Sunday midnight to Sunday midnight between September 1 and October 19 this year with a focus on spiritual awakening, salvation for the lost and social justice. It forms part of the '7 Days on the Wall' night-and-day prayer initiative that seeks to unite more than 900 towns and cities across South Africa in prayer.
The summit was marked by several testimonies of how God has moved in answer to prayer, including that of Pastor Robert Nohamba from Gugulethu, Marina du Toit of Durbanville and Angelo Kube from Mitchells Plain. The common theme was transformation within communities when church leaders united in prayer. Pastor Robert Nohamba testified how, during a 24/7 prayer in September last year, members of different churches came together to plant Bible promises on a large sports ground, establish prayer rooms in houses and erect prayer walls. He said after the week, which concluded with a service at which an outside speaker was invited to speak, positive things started happening and were reported in the local newspapers, Vukani and City Vision. One notable occurrence was the reduction in the number of tents in a street, which was an indication that a funeral was underway and usually numbered three or more at a given time.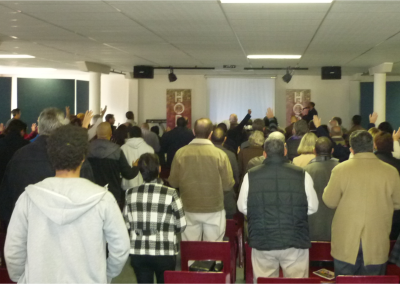 Janette van der Walt from the 24/7 Prayer Watch in the Helderberg Basin told of God-given visions involving water, which symbolises cleansing and a quenching of thirst, as well as growth and life, and signifies that revival is in the air and that God wants to bless. According to Janette: "God is putting an emphasis on prayer. Prayer and networks are roots that must connect for revival to come; through prayer the drizzle of grace and love over the Helderberg Basin became stronger and turned into a storm as grace and love rained down." However, like the Valley of Dry Bones in Ezekiel 37, she said that the Body of Christ is broken and the limbs are torn apart and lying all over the place.
What is interesting is that the book 'Not by Might nor by Power', written by Graham Power and Diane Vermooten and published in 2009, recounts what is referred to as a "divine appointment" in 2000 with two intercessors from the 24/7 Prayer Watch in the Helderberg Basin, Barbara Cilliers and Annemie Munnik. They stated that "God was calling the church to prayer twenty four hours, seven days a week." In 2001, a video, 'Transformations II', which was produced by The Sentinel Group in 2001 and narrated by George Otis Jnr, details the numerous miracles that occurred within societies plagued by various ills and "deemed beyond repair" when people started coming together and travailing in prayer.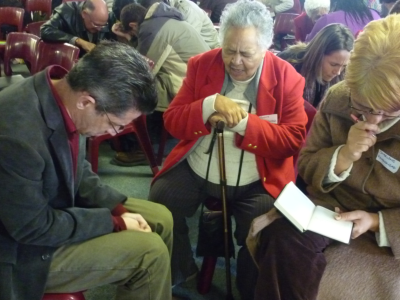 The message that echoed throughout the day was that for revival to take place and to allow God to do a new thing, lives must be reexamined, 'kingdoms' (of individual ministries) must be torn down, forgiveness must take place, relationships must be established, and hearts must be knitted together in pureness. Liezel Fourie, Youth Prayer Coordinator with JWIPN, said that for God to liken unity to the oil that was used to anoint the high priests shows how precious unity is to Him (Psalm 133).
Daniel Brink, JWIPN Regional Prayer Coordinator explained that leadership gatherings will be arranged in Cape Town from June 21 to July 19, and in George to NMB from July 21 to 26, with the aim of forging prayer networks. He said the networks are, "massive groups of individuals and churches connected through prayer; everybody knows somebody, not necessarily everybody".  In most cases, a fraternal will be approached and encouraged to form a task team that must be representative of mainline and Pentecostal churches and cultural diversity, have a facilitator/ leader, as well as someone with administrative gifts. The task team will be required to issue regular and accurate communication to strengthen the unity within the Body of Christ, as well as maintain respect for the diversity within their network by choosing venues and worship that is acceptable to all. During the 24/7 prayer watch days, networks will follow what Brinks regards as a "simple strategy" – establish a prayer room, erect a prayer wall, and join in a prayer march. 
For further information, contact Jericho Walls on 021-919 7988, email: watch@jwipn.com, or visit: www.globalprayerwatch.org.