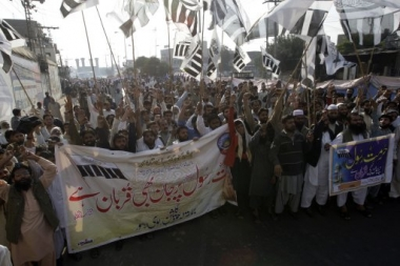 A Christian road sweeper in Pakistan has been sentenced to death for blasphemy.
Sawan Masih was also fined 200,000 rupees (around £1,200) by judges at a private hearing today, reports Release International. 
The father of three, from Joseph Colony in the Badami Bagh area of Lahore, was accused of blasphemy after a row with a Muslim friend over property in March last year. 
The allegation was broadcast by the local mosque through its loudspeakers, triggering a violent reaction from a mob of around 3,000 people who went on the rampage, rioting in his neighbourhood and setting fire to more than 200 homes in the city. 
Witnesses said police stood by while the homes of Christians were torched.  The police inaction prompted Christians to stage protests calling for greater protection. 
The hearing today was held in private inside the prison where Sawan is being held because of the sensitive nature of the charges.
Blasphemy is a highly contentious issue in Pakistan and attempts to repeal the laws have been vehemently opposed by more radical elements.  Challenging the blasphemy laws was a prominent factor in the murders of Minorities Minister Shahbaz Bhatti and Punjab Governor Salman Taseer in 2011. 
The blashphemy laws criminalise insulting the Prophet and desecrating the Koran, and carry a death sentence. 
However, human rights groups claim that the blasphemy laws are often misused against religious minorities, including Christians, to settle personal scores and seize property.
So far, no death sentence for blasphemy has been carried out but even if the verdict is eventually overturned, the accused can spend years in prison awaiting the outcome of lengthy appeals and if freed, they run the risk of brutal mob justice.
 "All too often in Pakistan rivals will cry blasphemy to settle scores and enact revenge," said Release International Chief Executive Paul Robinson.
"It leads to death threats, murder and riots. In the interests of justice Pakistan must repeal these blasphemy laws.
"In reality the death sentence may not be carried out but it can mean that an accused person ends up behind bars for years. Even if their conviction is eventually overturned on appeal the accused are still vulnerable to attacks by vigilantes."
Release partners supporting Sawan in Pakistan believe the attacks on the Christian colony were an attempt to drive the community out so that a factory could be built there instead. 
The partners insist the charges against Sawan are false.  They have expressed shock over today's verdict and plan to appeal the ruling at the High Court.
Sawan was represented in court by lawyers from the Centre for Legal Aid, Assistance and Settlement (CLAAS). 
CLAAS UK coordinator Nasir Saeed expressed disappointment over today's verdict and concern about the ongoing plight of Christians in Pakistan. 
"Unfortunately the blasphemy law has become a powerful tool in the hands of extremists and is continually being used to attack churches, burn down Christian towns and villages and also kill innocent people," he said. 
Sawan is not the only Christian in Pakistan to have been handed the death sentence for blasphemy. Asia Bibi became the first woman in the country to be sentenced to death for blasphemy in 2010 following an argument with Muslim colleagues.
Her appeal has been subject to repeated delays, most recently on Wednesday when a hearing ended after just 10 minutes because one of the prosecution lawyers failed to attend. Another hearing on her appeal has been set for April 14.Bhatti and Taseer were killed after speaking up on her behalf, and her family remain in hiding. 
Mr Robinson warned of even worse prospects for Pakistan's Christians after the Federal Sharia court's recent call for a mandatory death sentence for all those found guilty of blasphemy.
He warned that if the call is acted upon, it would be a "giant leap backwards for Pakistan".
"The worry is that the climate in Pakistan is taking a turn for the worse for Christians," he said.