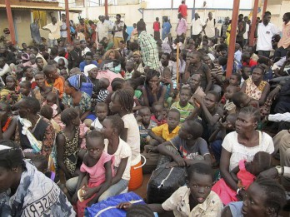 Originally published in Worldmag.com
Church leaders from the Episcopal, Catholic, and Presbyterian churches have asked to mediate between opposing parties in South Sudan's latest round of infighting in its army.
In a statement read by Archbishop Paulino Lukudu of the Catholic Church, the clergy asked the two parties in the conflict to come together and resolve their differences to avert the escalation of violence. He called upon citizens of South Sudan to desist from turning the situation into an ethnic contest between different tribes.
Violence flared this week in two army barracks in Juba, the capital of South Sudan, when soldiers supporting different factions in the Sudan Peoples Liberation Movement (SPLM) began shooting at each other. One of the factions is said to support President Salva Kiir, while the other is loyal to former Vice President Riek Machar, whom Kiir fired earlier this year. There are fears that the fighting could take an ethnic dimension, pitting the president's Dinka community against Machar's Nuer community.
We see you've been enjoying the content on our exclusive member website. Ready to get unlimited access to all of WORLD's member content?
Get your risk-free, 30-Day FREE Trial Membership right now.
(Don't worry. It only takes a sec—and you don't have to give us payment information right now.)
Absolutely! Sign Me Up!Forget the Trial … Make Me a Member!
Already a Member? Login Now
Get your risk-free, 30-Day FREE Trial Membership right now.
The United Nations Secretary General's Special Representative to South Sudan Hilde F. Johnson called on all concerned parties to refrain from community violence. "It is paramount that the current violence does not assume ethnic dimensions," she said.
South Sudanese have grown increasingly frustrated with the Kiir government in their young state, which was granted independence from Sudan in 2011. Earlier this month, they learned the government has amassed an astonishing estimated $14 billion (4.5 billion South Sudanese pounds) in debt in two years of oil production shutdown. Many blame the Kiir government for corruption and borrowing at high interest rates. Machar warned in a statement earlier this month of an "internal crisis" that had engulfed the government and "paralyzed its leadership."
Fighting broke out Sunday night after a meeting of the ruling party ended when Kiir critics walked out of the meeting, claiming it had been illegally convened. Residents continued to report gunshots Monday night and Tuesday.
So far, government authorities have reportedly arrested several former ministers in what Kiir called a "failed coup attempt."
The Sudan Tribune reported that presidential guard forces raided the house of Machar, whose whereabouts are still unknown. Sources WORLD spoke to could not confirm whether key leaders and Machar allies in South Sudan were actually alive, arrested, or free. Ironically, the widow of the late John Garang, a Dinka and the SPLM's founder and longtime leader, supports Machar against Kiir. In a Facebook update, one of Garang's son's condemned the president's statement, saying that what happened was not a coup attempt but an instigated action to find a reason for arresting Machar and his accomplices. Garang's widow, Rebecca Nyandeng Garang, is reported to be at home. She has been opposed to Kiir's leadership since the cabinet reshuffle in July, which saw many of the former ministers lose their positions.
Johnson said the UN mission was providing protection to civilians taking refugee from the violence. As of early today, an estimated 10,000 civilians were staying in two UN compounds in Juba. So far, there are no official numbers of people killed, but unofficial sources say 26 civilians and 60 soldiers have died. Many more people, mostly women and children, are said to be fleeing Juba for other, safer towns.
The Christian Times reported that shops, banks and government offices remained closed in Juba. Meanwhile, the government continued to assure its citizens the situation is under control.
"A political problem between leaders within the SPLM," wrote the eight church leaders in a statement released Tuesday, "should not be turned into an ethnic problem. Sadly, on the ground it is developing into tribalism. This must be defused urgently before it spreads."