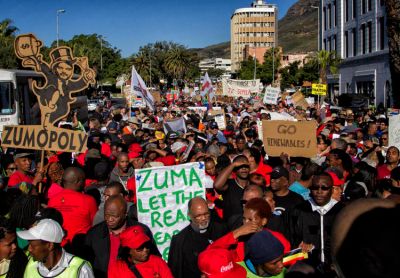 Two years ago there were hardly any church leaders speaking out against corruption in government but this week church leaders were at the forefront of marches against corruption throughout the country, ahead of Tuesday's no-confidence vote which President Jacob Zuma survived by a narrow margin.
Nowhere was this remarkable shift by the church more conspicuous than in Cape Town on Monday, when local and national church leaders joined civil society groups in the #UniteBehind march to parliament, where speakers included several prominent church leaders, said Miles Giljam of the South African Christian Leadership Initiative who served as a justice peace monitor at marches in Cape Town this week.
He said it was interesting that church leaders chose to identify with the civil society march on Monday rather than with Tuesday's political party-led marches to parliament by groups for and against the no-confidence motion. It was also significant that a number of high-profile church leaders flew in from Gauteng and other areas to join local leaders in the march by several thousand people who were taking a stand against corruption and state capture.
Prominent leaders from Gauteng included Bishop Zipho Siwa president of the SA Council of Churches (SACC) and presiding bishop of the Methodist Church of SA, Rev Moss Ntlha general secretary of the Evangelical Alliance of SA, and Rev Ndaba Mazabane chairman and interim secretary general of the World Evangelical Alliance and associate pastor at Rosebank Union Church in Johannesburg.
Needed to be there
"There were quite a few senior church leaders there even if they weren't speaking — they just felt they needed to be there," Giljam said.
He said Monday's #UniteBehind march was exactly two years after the Uniting Against Corruption march of August 7 2015 where there was very little church leadership involvement. This week, the rising voice of the church was even heard in parliament, when ACDP leader Dr Kenneth Meshoe quoted Rev Ntlha during the no-confidence debate.
"I think the fact that church leaders are taking such an unequivocal stand on corruption is being noted. And I think this week was a sign of how the Church is standing up and taking leadership in the public square — and how civil society is respecting, welcoming and honouring that leadership.
"That's an amazing development over two years as a result of engaging, and building relationships and developing theology on the role of the Church [in issues such as state corruption]. It's certainly not the end of the road but this week was a sign of how the Church is in much stronger place to provide that leadership," Giljam said.
In an interview with Gateway News Ntlha agreed that the Church has significantly stepped up its role in the public square, echoing the critical prophetic role it had played in previous times of national crisis, such as post-Sharpeville in the 60s, the Soweto uprising in the 70s, the 80s peace accord, and peace-seeking amidst escalating suffering and violence in the 90s.
Three months ago was another such big crisis point which demanded a response from the Church, after a lot of people came forward to the SACC with testimonies supporting the idea of state capture. At the time the SACC released a report in which it said South Africa was on the brink of becoming a mafia state, he said.
At such times God directs the Church to hear the cries of the poor and to go and help them.
He said the presence of senior leaders at the Cape Town march on Monday was indeed significant and a sign of the Church taking up its prophetic tradition.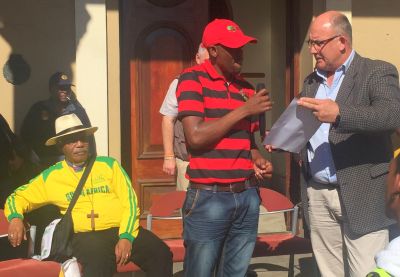 'God has not given up on miracle'
"God has not given up on the miracle [of national reconciliation and nation building] he entrusted us with in '94," he said.
Regarding the presence of church leaders at marches throughout the country this week, he said: "I believe civil society people feel safe when the Church is present. If the Church abandons people [during public protest action] it allows havoc because the situation is left to people who have lost hope," he said.
He said that during Monday's march, a politician who walked alongside him whispered in his ear that the Church's presence was a "game-changer".
Watching an anti-state capture meeting outside the Port Elizabeth City Hall on Tuesday morning, attended by marchers from opposition parties and civil society groups, I was struck by a sense of the way that a church presence was contributing towards an atmosphere of peace and harmony. Anglican bishop Bethlehem Nopece spoke first and prayed over the gathering. Later, when a petition from the united opposition was handed to the mayor Athol Trollip he began his short response speech by quoting from 2 Timothy 2:5 — Similarly, anyone who competes as an athlete does not receive the victor's crown except by competing according to the rules.
"We have a president who wants to wear the victor's crown' but does not compete by the rules'" Trollip said.
This year has seen a significant increase in national and local prayer initiatives focused on the state of the nation as Christians have responded to a sense of a heavenly call to prioritise prayer. In a notable prayer event in PE this week at least 14 churches partnered in a four-hour prayer meeting on Monday night. But the marches this week have highlighted the important contribution that the Church has to make by standing with citizens during times of crisis. The potential that the Church has to be a peacemaker and bring Godly wisdom into the public square is also highlighted by a survey which shows that the Church is the institution most trusted by 81% of the South African public.
Commenting on President Zuma's narrow victory in Tuesday's no-confidence vote via a secret ballot — with 198 votes against, 177 for and nine abstentions — Ntlha said: "The margin was quite small. I think a growing number of people are not comfortable any more with tolerating corruption.
Death threats
"A growing number of ANC MPs are coming out and saying so — and they have faced death threats. Those that keep quiet know that they could face the same if they came out.
"Corruption and state capture can't be sustained without intimidation," he said.
He said that at a conference two months ago the SACC resolved that the state is morally illegitimate and only has technical legitimacy to govern. In November the SACC will be holding another conference at which it will discuss what the Church is to do about the moral illegitimacy of the government.