Special Report by Juan Pienaar pastor of Sedgefield Christian Church, which has been helping neighbours who lost everything in the Garden Route fire nightmare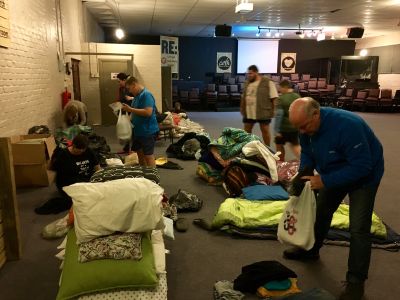 June 7 2017 will be written in the history books as one of the greatest disasters to ever strike the Garden Route, as a fire swept through from the outskirts of Sedgefield to Knysna and Plettenberg Bay, destroying hundreds of homes, and displacing thousands of people.
We had the privilege of having front-row seats to see how God would take over a service we has arranged months back for an appointed time. It was the time when the devastation of a raging fire brought such darkness for many people as they mostly lost everything. Yet this was the appointed time and opportunity for the church to shine the brightest, showing off what the church in action looks like, being Jesus' hands and feet.
Our guest speakers were traveling from Port Elizabeth to Sedgefield and due to the fires, they got stuck in Plettenberg Bay. We needed to make a call — do we cancel the service or do we continue­? We felt God leading us to continue with a worship and prayer service for those who were affected by this devastating fire.
We had an amazing time worshipping God, petitioning before God and making our requests known to Him. As the service ended we were approached by the community to see if we would be willing to open our venue as a shelter for those who needed a place to sleep.
Within 10 minutes of the request for help, the first people and supplies began to arrive. Our church family was so amazing, they served and helped like I haven't seen them do before.
Touching and overwhelming
People arrived devastated and the sensitivity with which people welcomed those who were in a fragile state was touching and overwhelming. The Scripture I had read a few minutes before during the service from 1 Peter 4, came alive — above all, keep loving one another earnestly, since love covers a multitude of sins. Show hospitality to one another without grumbling. As each has received a gift, use it to serve one another, as good stewards of Gods varied grace so that in everything God may be glorified through Jesus Christ. To Him belong the glory and dominion forever and ever.
The stories we got to hear of how these hurting people were touched by God's children serving like Jesus did were deeply moving.
The Church's greatest opportunity is often on the back of the darkest moments in the world. It's when the darkness is the darkest, that the light shines the brightest.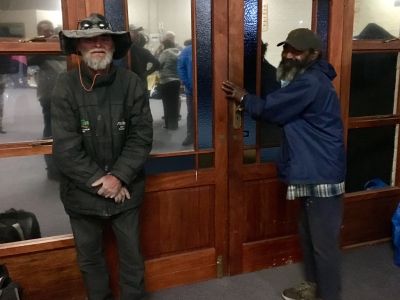 What touched our hearts the most was when two of the homeless men in our town who regularly attend our church stayed behind to serve. They were the first to start packing up the chairs when we started to prepare the venue for the fire victims.
They decided that the door duty would be theirs, seeing that a bitterly cold gale force wind would whip through the venue every time the door was opened.
For the next 24 hours these two men guarded our doors without closing their eyes once. They would jump out into the cold and be the first to help carry in supplies which were dropped off to help those in need.
They served those who came in with dignity and care. These would be the very men who would suggest that I have a rest at 4 in the morning so that I could be fresh and be able to make decisions. At 6am they suggested that I go home and shower and see my family before we continued with the rest of the day.
Privilege of servanthood
As we thought that we were there to help others and make a difference in their lives, we found that it was us that were helped and changed. It helped to see again the mission and call of God on our lives. It helped us see afresh the privilege of servanthood.
In the midst of our tiredness and weariness, we would feel the pleasure of God in being on mission with Him.
Don't go to church, be the church and go!