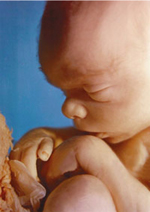 All churches in South Africa are encouraged to mark Sanctity Life Sunday on January 29 by "observing a solemn and serious time of repentance and prayer for the national sin of abortion", says Africa Christian Action (ACA) in a press statement released today.
Sanctity Life Sunday falls on the Sunday before February 1, which will mark the 15th anniversary of the legalisation of abortion on demand in South Africa. Since February 1, 1997 more than one million babies will have been killed in South Africa – by abortion – legally.
The right to life of pre-born babies is one of the most urgent and important issues facing the church today, says ACA. To assist pastors in informing and inspiring their congregations to prayer and action, ACA is offering a comprehensive Pro-life Pack that includes sermons, prayers, a bible study, an audio lecture. The pack costs R35. ACA also has a selection of pro-life books (especially  Make a Difference: A Christian Action Handbook for Southern Africa), DVDs, bumper stickers, T-shirts, Precious Feet lapel pins and crisis pregnancy outreach posters. Many of these materials, including pro-life leaflets, can be downloaded from the Christian Action website.
ACA calls on Christians to encourage their pastors to mark Sanctity Life Sunday on their 2012 calendar.
"Hidden genocide"
"A growing number of Christians worldwide recognise the abortion holocaust as one of the greatest crimes being committed in the world today. In fact, abortion is South Africa's hidden genocide. The most dangerous place in the world is not Afganistan, Iraq, Congo, Sudan or Zimbabwe. The most dangerous place in the world is the womb. Pre-born babies are being killed in their mother's wombs at a greater rate than any other section of society. It is an urgent priority for the Church to expose, oppose and end this war against children made in the image of God," says ACA.
The ACA press statement says: "According to the South African Christian Handbook there are over 20 million churchgoers in South Africa. If most of these churchgoers could understand what the Bible teaches about when life begins, the sanctity of life and our Christian responsibility to stand up for the right to life of the pre-born – then we could save thousands of babies from abortion.
"Most of the medical personnel in our country are church members. Most of the mothers go to church. Most of the voters in South Africa claim to be Christians. If Christians in South Africa could stop and look at the abortion holocaust in the light of Scripture; if we could understand something of the heart of God on this disgraceful abomination – then we would be roused to action.
"There are over 36 000 churches in South Africa. There are over 30 000 ministers in the country. If just half of them could be inspired to study what the Word of God says on when life begins and what abortion is; if only half the churches in South Africa observed Sanctity Life Sunday in Bible study, repentance and prayer – then we could begin to end the legalised killing of babies in South Africa.
"Speak up for those who cannot speak for themselves" Proverbs 31:8"
The ACA press statement cites US researchers who condemn abortion as the violent murder of an innocent and helpless human person. Gregg Cunningham of the US Centre for Bio-ethical Reform says, "Abortion represents an evil so inexpressible that words fail us when we attempt to describe its horror. Abortion will continue to be trivialized as 'the lesser of two evils' or perhaps even 'necessary evil' as long as it is allowed to remain an invisible abstraction."
According to the Elliot Institute, up to 83 per cent of abortions are unwanted. 64 per cent involve coercion. They say: "Abortion is the un-choice. It is unwanted, unsafe and unfair."
Funeral procession and vigil to mourn abortion deaths
On Wednesday, February 1, Africa Christian Action (ACA) will hold a prayer vigil outside the gates of Parliament (at the corner of Roeland and Plein Streets) from 1pm to 1:30pm. A short memorial service and wreath laying ceremony will be held in memory of babies killed by abortion in South Africa since 1997. The vigil will be preceded by a solemn funeral procession to Parliament. The procession will be led by a piper and will include a hearse and protestors bearing coffins, crosses and flowers. The funeral procession will be followed by the ACA trailer, a special six metre by three metre display board with pictures of pre-born babies and with the Scriptures: "Speak up for those who cannot speak for themselves" Proverbs 31:8; and "Now choose life so that you and your children may live." Deuteronomy 30:19. Special obituary notices will also be placed in newspapers around the country.The procession will gather at the Keizersgracht parking lot below Cape Peninsula University of Technology (CPUT) and march down Darling street, left into Buitenkant street, then into Plein Street. Meet in Keizersgracht Street by 12:30pm. Supporters wishing to join the procession are asked to dress in black if possible.