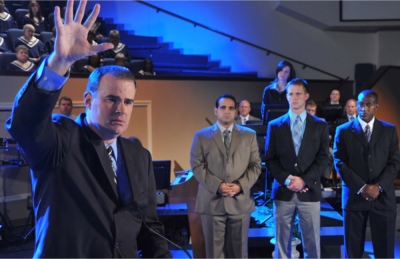 Despite numerous requests from viewers around the country South African cinema chains yesterday added just one town — Worcester — to the lucky few which are currently getting to see the Christian blockbuster Courageous.
Peet Louw, a director of Humble Pie Entertainment, which is marketing the movie in South Africa said he was "very disappointed" about the limited release since the movie opened in SA on January 27, despite his company's efforts to get the film screened more widely.
He said Humble Pie had received about 16 pages of emails from people around SA requesting that Courageous be screened in their area. He said they had sent all of the requests to the studios and would take up the matter again with them in the coming week.
Anybody wishing to request that Courageous be shown in their town or at their local cinema should send an email to events@humblepiegroup.com.
Courageous, which tells the story of four tough cops and a carpenter who discover they need to become better fathers, is being released by Sony Entertainment Pictures.
In the listing of Courageous screenings for the coming week that was released yesterday, the only newcomers were Nu Metro: Canal Walk in Cape Town, Nu Metro in Worcester, Ster-Kinekor: Maponya Mall in Johannesburg, Ster Kinekor Velskoen Drive In in Johannesburg, and Nu Metro: Benoni.
The full listing is:
Western Cape
Ster-Kinekor: Cape Gate Mall
Ster-Kinekor: Parow Mall
Ster-Kinekor: Garden Route Mall (George)
Nu Metro: Canal Walk
Nu Metro: Worcester (New)
Johannesburg
Ster-Kinekor: Maponya Mall (New)
Ster-Kinekor: Mall at Carnival
Ster-Kinekor: Velskoen Drive In (New)
Ster-Kinekor: East Rand Mall
Nu Metro: Benoni (New)
Pretoria
Ster-Kinekor: Kolonnade
Nu Metro: Menlyn
KZN
Nu Metro: Galleria