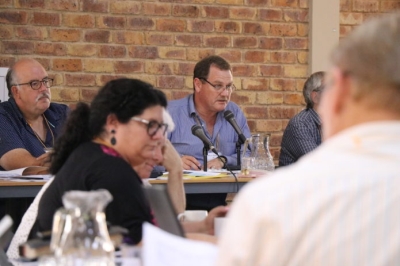 Translated from a report in e-kerkbode
Judgment is expected tomorrow (Friday March 8) at the High Court in Pretoria in a court case over a Dutch Reformed Church (DRC) Synod decision on homosexual relationships.
Rev Nelis Janse van Rensburg, Moderator of the DRC, gave an opportunity for prayer at a meeting of the General Synod yesterday and asked that church leaders there should pray that God would give them "soberness, grace and mercy". That if the verdict is in the favour of the church we will act with grace and mercy. And if it is not in our favour, we will still deal with each other with grace and mercy. "
"Read the (court) judgment itself — take the document and read it thoroughly," Janse van Rensburg said on the eve of the court ruling in a case which has the potential to "disrupt" the church.
The court case arose after 11 DRC members challenged and asked for the setting aside of a decision by the General Synod regarding same-sex relationships.
"This matter is more complex than it looks," said Janse van Rensburg, chairman of the General Synod.
"You have to hold back before passing judgment on a judgment. You can make yourself very ridiculous very quickly, " he told the more than 40 delegates at the General Synod currently meeting in Kempton Park.
"I think it's a pretty big moment for us. It's an issue that has brought tremendous strain to us over the past few years. The verdict has the potential to disrupt us. There is no doubt about it, "says Janse van Rensburg.
Dr Gustav Claassen, general secretary, will represent the church at the Pretoria High Court tomorrow.
On August 22, 2018, an urgent court application was brought before the High Court in Pretoria to have the Dutch Reformed Church's latest resolution on same-sex relationships declared invalid. The application against the church was initially brought by Laurie Gaum, Judith Kotzé, Michelle Boonzaaier, Dr Frits Gaum, Rev Pieter Oberholzer, prop Hennie Pienaar, Lulani Vermeulen, Adv Leon Wessels, Dr Murray Coetzee, Prof Hendrik Bosman, Dr Chris Jones and Dr Nadia Marais. For "logistic reasons" it is being made by four of them: Laurie and Frits Gaum, Judith Kotzé and Michelle Boonzaaier. At issue is the church's rescinding of a 2015 decision that openly gay ministers can serve in the church and officiate at same-sex civil unions. In 2016, the 2015 synod decision was reversed at an Extraordinary General Synod.