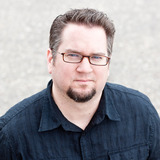 Christian documentary feature filmmaker Darren Wilson announced this week that his current, keenly-awaited 'Holy Ghost' project is producing "so much amazing stuff" that he has decided to make two movies that will be released 6 months apart.
The first movie, which he will take on tour in August or September 2014, will be called 'Holy Ghost', and the film to be released 6 months later, will be called 'Holy Ghost Reborn," Wilson told his backers in a special online video announcement.
After the worldwide success of his ground-breaking trilogy, Finger Of God, Furious Love and Father Of Lights, Wilson raised funding for Holy Ghost through the crowd funding platform Kickstarter. He said the movie will ask and seek to answer questions about the Holy Spirit. In recent months he and his team have filmed in the US, Brasil, India, Italy, Greece and Monaco. Next month they will be in Turkey and early next year they will film in South Africa.
"It's becoming pretty clear to me at least what's going to be in the first film and how I will put it together. And I can tell you, it's going to be electric!" he said.