Nothing impossible with God on our side, says Sanparks PR & Communications Head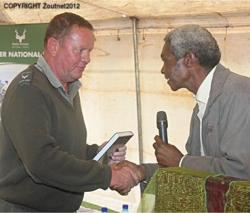 By Elmon Tshikhudo — Originally published in Zoutnet
Rhino poaching has become a very serious problem in South Africa, with many rhinos killed over the years. Since the beginning of this year, 271 rhinos are reported to have been killed and, during the same time, 54 poachers were arrested in the Kruger National Park (KNP) alone.
In an effort to stop rhino poaching at the KNP, the management of the park joined hands with the local Malamulele pastors fraternity in prayer. The prayer meeting took place at the Shingwedzi Soccer Field last Saturday and clerics of different denominations from the surrounding villages took part in the prayer service.
Addressing the congregation, the head of public relations and communications of Sanparks, Mr William Mabasa, said they had done all in their power to stop the poaching, but it kept on occurring. He said they felt they should seek divine intervention, as God is the one who knows all and can even stop the poachers from their evil plans.
"We came here to ask God to intervene in this war that our country is currently facing. There is no doubt that indeed rhinos are under siege, but if we have God on our side, nothing is impossible," said Mabasa.
He said the event was the first of its kind, where Christians came together in support of the KNP to declare war on rhino poachers. "We believe that if community structures stand up to fight rhino poaching, eventually poachers will be isolated," he added.
He said they were doing everything possible to empower rangers and ensure that they have all the necessary skills and equipment required to patrol for 24 hours every day.